No Comments
£0.77 "What's So Funny About Murder" by Various Authors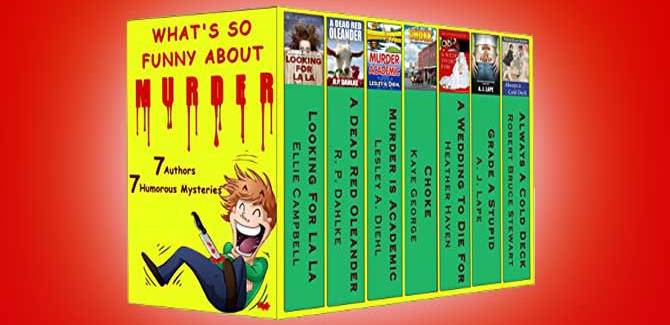 Ebook Deal of the Day:

£0.77 "What's So Funny About Murder: 7 complete humorous Mysteries by 7 authors" by Ellie Campbell, RP Dahlke, Lesley A. Diehl, Kaye George, Heather Haven, A.J. Lape, Robert Bruce Stewart
Genre: Humour & Satire, Women's fiction, Mystery
What's so funny about murder? These 7 authors prove that humor, from smiles to belly laughs, can delight and entertain while still getting a really good mystery. Some of the books are award winners, and all are highly reviewed authors.
Here's your invitation to enjoy a laugh while you try to discover "who-done-it." They are presented in this boxed set by Alphabetical Order:
*Looking for La La by Ellie Campbell
*A DEAD RED OLEANDER by RP Dahlke (#2 in the Dead Red Mystery Series)
*Murder Is Academic by Lesley A. Diehl
*CHOKE ( #1 in the Imogene Duckworthy Mystery) by Kaye George
*A Wedding to Die For by Heather Haven (#2 in the Alvarez Family, owners of Silicon Valley's successful Discretionary Inquiries)
*Grade A Stupid (#1 in the Darcy Walker Y/A Mysteries ) by A.J. Lape
*Always a Cold Deck by Robert Bruce Stewart (1st in the Harry Reese Historical Mysteries)