No Comments
£0.99 "Looking for La La" by Ellie Campbell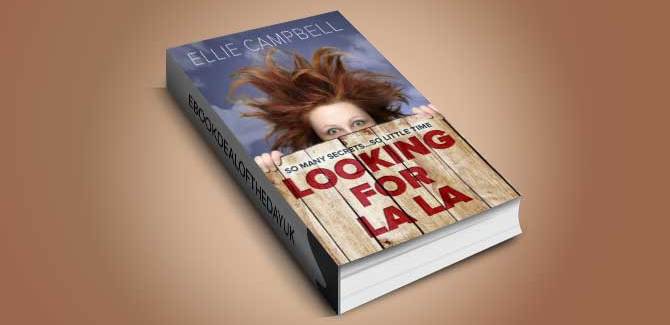 Ebook Deal of the Day:

£0.99 "Looking for La La" by Ellie Campbell
Genre: Cozy Crime, Myatery, Romance
Bored stay at home mother, Cathy, finds her predictable routine upturned as she investigates a lipstick-covered love postcard sent to husband, Declan. Who is this mysterious La La? Could Declan really be having an affair? And – wait – is Cathy actually being stalked?
With all her friends hiding secrets, a sexy admirer igniting long-forgotten sparks, and the stress of organizing the school's Save The Toilets dance, soon it's not only Cathy's marriage that's in jeopardy. Add in the scheming antics of Declan's new assistant and a possible murderer on the scene and the stage is set for a dangerous showdown and some very unsettling, even deadly, revelations.
You are quickly drawn into this very unpredictable, well thought out story, full of mystery, gossip and secrets which keeps you guessing right to the last chapter – ElaineG – (Amazon Top 100 Reviewer)
5* Comedy Drama Murder + More. Packed with humour (The Toilet Dance did have me intrigued). Laughs galore but also a murderous undertone. From romps with those that should not be romped with to accidents that should never happen a read that carries itself right from the start to finish. – Alessi Lover – Amazon Top 500 Reviewer
Fantastic chick lit! Just don't start reading it an hour before bed – Gia Scott (Vine Voice)
Go on an amazingly funny, brilliant and entertaining ride with Cathy and her crazy cast of friends and neighbors! – Mrs Mommy Booknerd
Filled with great characters and hilarious, yet believable scenes. I highly recommend Looking for La La if you need a good laugh!- Christy's Cozy Corners