No Comments
Free Three Romance Kindle Books this Thursday!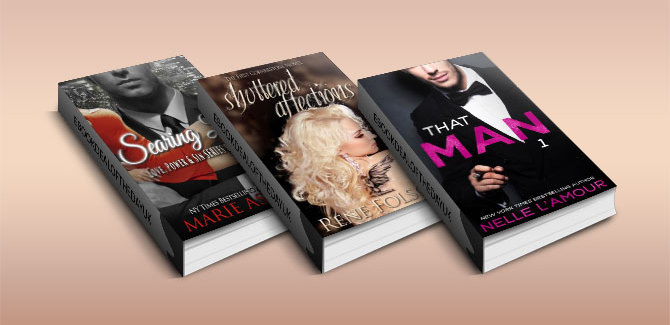 Free!"Searing Lies (Love, Power & Sin Book 1)" by Marie Astor
Genre: Historical Romance, Romantic Suspense
Allyson Roberts has it all: love, fortune, and a promising career. Her perfect life goes up in smoke when she sees her father's name in the papers next to horrible accusations. In a blink of an eye she loses her fiance, her employment, and her fortune. Just when she seems to have hit the bottom, Ally is recruited by an undercover agency that is interested in her skills. She takes the job with only one goal in mind: to clear her father's name. Vengeance is the only thought on her mind as she convinces herself that her heart has no room for love–or does it?
A former top agent in his field, Jake Morrissey has inner demons he can't put to rest. Now he bides his time as a training instructor. He's sworn off women, but try as he might he can't keep his eyes off Allyson Roberts. When he's asked to partner up with Ally on a new assignment, Jake is tempted to end his retirement. Will he keep running from his fears or will he find the strength to become the man he once was?
Free! "Shuttered Affections (Cornerstone #1)" by Rene Folsom
Genre: New Adult, Romantic Suspense
Juliana Petersen's troubled past haunts her at every turn. The crippling memories of an abusive relationship, and the lack of support from her family, lead her to flee her old life and begin anew.
After settling into a quaint college town, Juliana finally feels at peace, content to stay under the radar and keep things simple.
Until Aiden Stone, her new photography professor, crashes into her life, blurring the line between love and lust. As their torrid affair reaches untold heights, Juliana struggles to keep her shuttered emotions, and growing affections, from throwing her into a relationship she isn't prepared for.
With her newfound romance blinding her from the looming shadows of her past, her nightmares become reality, and she is forced to discover her true strength within.
Warning: This student/teacher romantic suspense novel is the first book in the Cornerstone series and contains sexual situations meant for adult readers ages 18 and up.
Free! "That Man 1: (That Man Trilogy)" by Nelle L'Amour
Genre: Women's Fiction, New Adult Romance, Romantic Comedy
There's a new beautiful player in town…
Blake Burns, the sexy head of SIN-TV, who goes through women like some go through water. Until he meets Jennifer McCoy, his outspoken new assistant and development executive.
Newly engaged Jennifer has no idea that her devastatingly gorgeous new boss is the man she kissed, blindfolded, in a game of Truth or Dare. That kiss, that man, that beautiful stranger she cannot forget.
Blake hasn't been able to stop thinking about that kiss either…and he'll do anything to win Jennifer –even if it means being a beautiful bastard and breaking all the rules.