No Comments
Free Three Christian Romance Ebooks!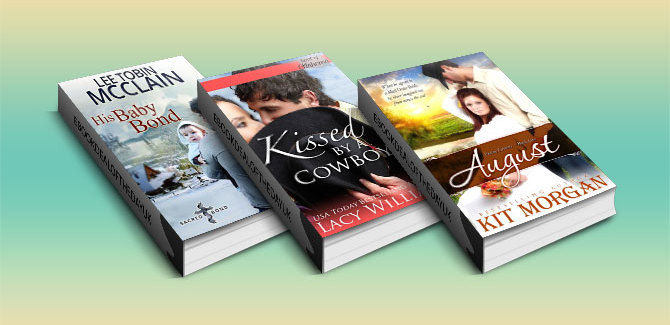 Free!"August (Prairie Grooms, Book One)" by Kit Morgan
Genre: Historical Romance, Western Romance, Christian Romance
Prairie Grooms is a series, so you'll want to read these books in order to have the most fun. Kit Morgan's books are fun, whimsical, sweet stories about the old west, its people, but especially about Clear Creek. One of the wackiest little towns in the old west!
Free! "Kissed by a Cowboy: a cowboy inspirational romance (Heart of Oklahoma Book 1)" by Lacy Williams
Genre: Western Romance, Women's Fiction, Christian Romance
Just shy of her thirtieth birthday, Haley Carston returns to Redbud Trails, Oklahoma, to care for her dying aunt. She thinks she's ready for this homecoming. She's spent years escaping her perpetual shyness and being Katie Michaels' tag-along friend, but being back in her hometown brings back a lot of old memories, especially when she is faced with the cowboy she never forgot—Katie's older brother, Maddox.
Twelve years ago, Maddox Michaels was supposed to be somebody. He had everything. A football scholarship. A Division I team scouting him. Maybe even a chance at the pros. Now, he's a burned-out cowboy working day and night to stay ahead of his brother's medical bills and keep their family farm from going bankrupt. And trying to be a father-figure for his niece, Olivia.
When Haley and Olivia start spending time together, Maddox can't help remembering those dreams that died alongside his sister. Will being with Haley open his heart to new dreams?
Free! "His Baby Bond (Christian Romance): Sacred Bond Series Book 1" by Lee Tobin McClain
Genre: Christian Romance
Battle for a Baby . . .
Poor-but-proud Kendra Forrester doesn't need an arrogant millionaire to tell her how to raise her sister's baby. But when handsome Zeke King arrives at her Colorado cabin demanding custody of his brother's child, strategy dictates that she let him stick around.
Battling mountain weather and the baby's illness brings these two opposites together, but their own insecurities, their dead siblings' secrets, and a jealous former boyfriend threaten their tentative bond.
Only the Lord and the Sacred Bond Brotherhood can help Kendra and Zeke form a family for their baby.