No Comments
Free Three Differrent Types of Romance this Saturday!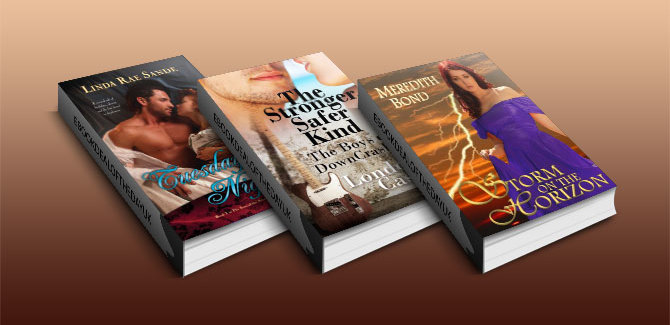 Free!"Tuesday Nights (The Sons of the Aristocracy Book 1)" by Linda Rae Sande
Genre: Historical Romance, Regency Romance
If every man is a master of time, then what of the man who loses track of it?
A viscount's son and a bare knuckle boxer, Michael Cunningham is more interested in building his fortune than spending time at the Marriage Mart. But long ago he promised his mother he would get married "if not before, then on the eve of my twenty-eighth birthday".
Reminded by his sister, a duchess, that his next birthday is his twenty-eighth birthday, Michael realizes he has much to do in the three weeks he has to keep his promise – not the least of which is to secure the only woman he has ever considered for a wife – the younger daughter of his business partner and the very woman his sister has just hired to be a governess!
The duchess will rescind her offer of employment to Olivia Waterford, but there's no time for courtship, no time for banns to be read, and certainly no time to wait for a wedding to be planned once Michael proposes. His sister has the perfect plan, though. In order to meet his mother's deadline and ensure a quick marriage, she insists Michael must ruin Olivia!
Olivia has felt affection for her father's business partner since the day he rescued her from a rake. But since the gentleman never showed a romantic interest in her during his frequent visits to her family's home in Shipley, imagine her shock when he climbs into her bed and is discovered by her father! Ruined, indeed!
Now married and living in London, Michael is sure Olivia despises him for what happened, while Olivia is quite sure her husband has feelings for her sister and simply wandered into the wrong bedchamber that fateful Tuesday night.
Free! "The Stronger, Safer Kind (The Boys of DownCrash #1) (A DownCrash Novel) (new adult romance)" by London Casey
Genre: New Adult Romance
The Stronger, Safer Kind
(The Boys of DownCrash #1)
All Scarlett wanted to do was thank the sexy stranger who helped her push away a drunk, grabby college boy at a bar. When that stranger identifies himself as Tripp and then takes the stage as the lead singer and guitarist for rock band, DownCrash, everything in Scarlett's life begins to change.
Her best friend, Andy, confesses his love for her and leaves her with what should be an easy decision to make… yet each time she looks in Andy's eyes, she can't help but face her secret, nightmarish past.
The only thing that makes Scarlett feel better is Tripp… but Tripp isn't just a bad boy rockstar, he's hurt. He's in pain. He tries to hide his pain in a bottle, but Scarlett believes that, perhaps, their secrets can help each other.
Friendship and love is suddenly put to the test, and Scarlett is torn… Will she choose an easy, comfortable, happy life or a life clouded with mixed signals, raw emotion, and intense romance?
Free! "Storm On The Horizon, a paranormal Regency romance novella" by Meredith Bond
Genre: Paranormal Romance, Regency Romance
Tatiana Ashurst has a secret – one that she cannot afford to be known to Georgian English society. But Kit Vallentyn discovers her hidden ability to wield infinitely powerful magic… and saves her from inadvertently revealing it to everyone. Tatiana knows it is impossible for her to marry him. But how can she help herself from becoming fascinated by this handsome man, who seems to extend a spell over her more powerful than any she can conjure?
Kit is out for a wife. His instinct, however, is to go through the mere motions of searching, just to please his ambitious father who wants a big dowry from the marriage. But the one woman who he can't get out of his mind is the twin sister of the one his father wants him to marry – the one who is plain, penniless, ineligible… and enchanting in more ways than one.
For Kit and Tatiana to weather the storm of their desires, they have to peel away the layers of all of their secrets, to discover the simple truth of their love.
This book is a novella and prequel to Magic in the Storm. The print version is 85 pages long.