No Comments
Shifter Fated Mates: Volume 2 Box Set by Mandy M. Roth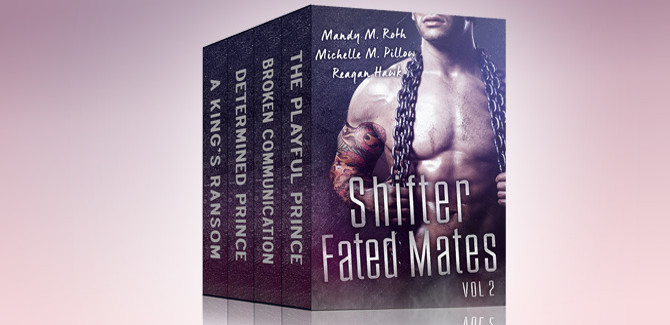 Realtime Price: ERR


Contains:
1. The Playful Prince by Michelle M. Pillow (Reg $4.99)
2. Broken Communication by Mandy M. Roth (Reg $2.99)
3. Determined Prince by Michelle M. Pillow (Reg $2.99)
4. A King's Ransom by Reagan Hawk (Reg $3.97)
That is nearly a $14 savings!
The Playful Prince by Michelle M. Pillow
Cat-shifter Prince Quinn isn't looking for a serious relationship. In fact, he's never even considered it. He's content to enjoy life to the fullest, never taking anything but his royal duties seriously. However, when a new scientist arrives to test for biological weapons, he can't seem to stay away from her.
Dr. Tori Elliot is at the palace to do a job and no matter what she's going to act like a professional…which means not succumbing to the seductively sexy playful prince.
Broken Communication by Mandy M. Roth
Genetically altered into a super soldier who can shift into a wolf, Casey Black should have been the perfect asset–but that wasn't to be. The scientists who conducted DNA splicing experiments on him put a little too much wolf in his cocktail. Considered a danger to society and a risk to the survival of the secret project, the government tried to eliminate him. The former Immortal Operative has spent the majority of his life on the run and off the grid from the very government who'd helped him be 'all he could be'. When the sassy, headstrong woman who makes his body burn with need vanishes, he realizes it's not his head, but rather his heart that is broken. And he'll do whatever is called for to mend it.
Determined Prince by Michelle M. Pillow
Dragonshifter Prince Kyran has studied the Earth people and is ready to assimilate. Female shifters are all but going extinct on his planet of Qurilixen, and his people are desperate for mates–so much so they're taking matters into their own hands. What better place to capture a woman than Earth? After all, dragonshifters had come from there centuries ago. Surely a human female would be honored to be selected by one as fine and fierce as himself.
A King's Ransom by Reagan Hawk
From King to Captive…
On a quest to find his brother, King Kritan of Katarian on the planet of Panucia finds himself ambushed, beaten, tortured and then sold to fight in the arena games. The people of Tamonius–his rival kingdom–condone slavery, take public sex to new lows and try to turn a profit off anything they can. Nothing can change his hatred for everything Tamonius… that is until he meets the most breathtakingly beautiful woman he's ever laid eyes upon. Surina of the House of Argyros, daughter to a powerful senator stirs the beast within him, making it want to lay claim to her as badly as the man does.
From Captive to King…
Free or not, Kritan is a master of seduction and has selected Surina as his newest prey. But this virginal beauty has secrets of her own–ones that change everything. And destiny just might have the last laugh.
Genre: Paranormal Romance


Amazon UK