No Comments
Free Three Romance Kindle Books!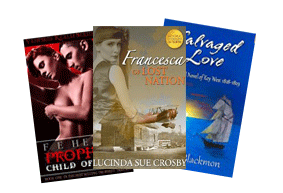 Free Three Romance Kindle Books!
Free! "Prophecy: Child of Light" by F.E. Heaton
Genre: Paranormal Romance
A vampire unlike any other, Prophecy lives life in the dark until the night she encounters a sensual dark-haired vampire who is both her enemy and the man who will change her world forever.
A loyal hunter for the Aurorea bloodline, Valentine is bound by duty to report her as the vampire of the prophecy, but he cannot shake the vision of them he saw in her blood. Torn between duty and desire, and determined to uncover the truth, Valentine goes against his order to execute her and kidnaps the beautiful Caelestis female instead.
Thrust into a terrifying world where the seven bloodlines and the Law Keepers are hunting her and her only hope for survival is Valentine, Prophecy battles her temptation to surrender to her illicit attraction to him and fights for her future.
When she discovers her extraordinary destiny, will she be strong enough to embrace it and stop a deadly war from igniting?
Free! "Francesca of Lost Nation" by Lucinda Sue Crosby
Genre: Romance/Adventure
An old fashion romance drama filled with life lessons on love, friendship, family and adventure
This book is a light romance, American drama adventure and coming of age novel, about an unconventional 59-year old woman, Francesca, and her resourceful 10-year old granddaughter, Sarah, who share the adventures of a lifetime over the summer of 1947 in Lost Nation, Iowa, U.S.A. Together, they enchant barnstorming pilots, wow Clinton County Fair attendees, conquer the skies, confront an escaped arsonist, discover how Lost Nation got its intriguing name, and eventually demonstrate to one another the greatest truth about love.
Anyone seeking a fun read with an old-fashion love story with some suspense, adventure, history, drama and family saga will enjoy this book.
Free! "Salvaged Love" by Susan Blackmon
Genre: Historical Romance
Salvaged Love is the story of a young girl's journey into womanhood and her need to carve a place for herself in the small island community and in the heart of her husband. Set in 1828 at the cusp of Key West's rise to wealth from ship salvaging, the story blends fact and fiction to entertain and highlight the fascinating history of Key West, Florida.
Eighteen year old Abigail Bennington eagerly accepts her father's invitation to sail to the Caribbean in a desperate need to escape her current situation. They sail from England expecting a six month holiday. Plans turn awry when they become stranded in Key West, a newly settled island at the entrance of the Gulf of Mexico, surrounded by treacherous reef and inhabited mostly by men. Abby becomes enchanted with the tiny island and its residents until circumstances force her father to insist she marry. Now locked in matrimony, can the young couple's burgeoning love survive resentment and isolation?