No Comments
Free Three Diff. Type of Ebooks this Thursday!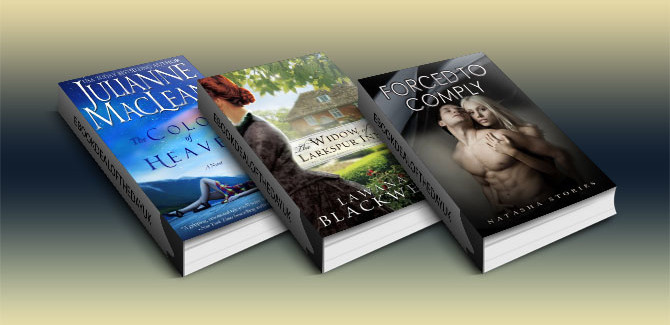 Free!"The Color of Heaven (The Color of Heaven Series)" by Julianne MacLean
Genre: Women's Fiction, Romance
A deeply emotional tale about Sophie Duncan, a successful columnist whose world falls apart after her daughter's unexpected illness and her husband's shocking affair. When it seems nothing else could possibly go wrong, her car skids off an icy road and plunges into a frozen lake. There, in the cold dark depths of the water, a profound and extraordinary experience unlocks the surprising secrets from Sophie's past, and teaches her what it means to truly live…and love.
Full of surprising twists and turns and a near-death experience that will leave you breathless, this story is not to be missed.
Free! "The Widow of Larkspur Inn (The Gresham Chronicles Book #1)" by Lawana Blackwell
Genre: Christian, Historical Fiction
When Life Seemed Its Worst, Gresham Awaited
Julia Hollis' opulent life in Victorian London crashes to pieces when her husband passes away. Worse, she is told by his bankers that he gambled away their fortune. Now, the family's hope rests on The Larkspur, an old abandoned coaching inn in the quaint village of Gresham.
Driven by dread and her desire to provide for her children, Julia decides to turn the dilapidated inn into a lodging house. But can she–who was accustomed to servants attending to every need–do what needs to be done and cope when boarders begin arriving? And then an eligible new vicar moves into town…
Free! "Forced to Comply (Forced to Comply Cop Sex Stories)" by Natasha Stories
Genre: Erotica
The week hasn't been going very well for Lauren Harrow. Her job is stressful, her boss is a jerk, and her credit cards are all at their limit. When a handsome cop pulls her over for a traffic violation however, she never expects the new direction her week is going to take. . .