No Comments
Cowboys In Her Pocket: A Romance Menage Western Contemporary (Cowboys Online Book 2) by Jan Springer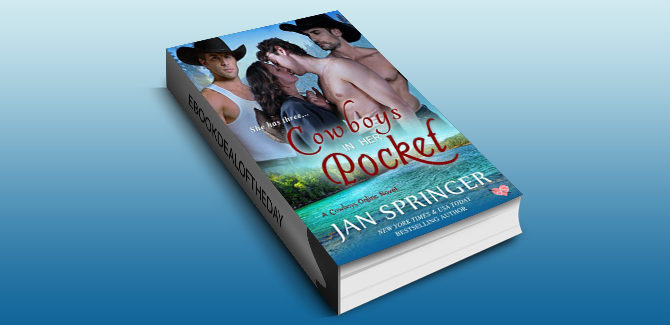 Realtime Price: £0.99

After spending ten years in a maximum-security prison Jennifer Jane (JJ) Watson got early parole and a job on a remote Canadian cattle ranch playing housekeeper to three of the sexiest cowboys she's ever met…
Spring has finally arrived at Moose Ranch and a single woman fresh out of prison shouldn't be experiencing scorching ménages with her three sexy-as-sin cowboys. But JJ's love for her men continues to grow as she gives into the fevered heat and scorching passions she feels for each of them.
Life is perfect.
Until her new life is tested when mysterious happenings occur on the ranch.
Food goes missing. A fleeting figure. An intruder during a violent thunderstorm. One of her cowboys is viciously attacked and injured. Will JJ's newfound freedom and happiness be ripped away?
Rafe, Brady and Dan never expected to get an attractive and very appealing female to help them out at their secluded ranch. But in the wilds of Northern Ontario, female companionship is rare. It's a good thing the three men like to share…
Brady, Dan and Rafe have never been happier. Their cattle ranch is flourishing and their continued desire to share the sexy woman who cares for them makes their life complete. Until danger threatens to rip everything apart…
Sequel to Cowboys for Christmas
Genre: Western Romance, Menage, Erotic


Amazon UK
B & N