No Comments
Unforgettable Christmas Promises by Mimi Barbour + more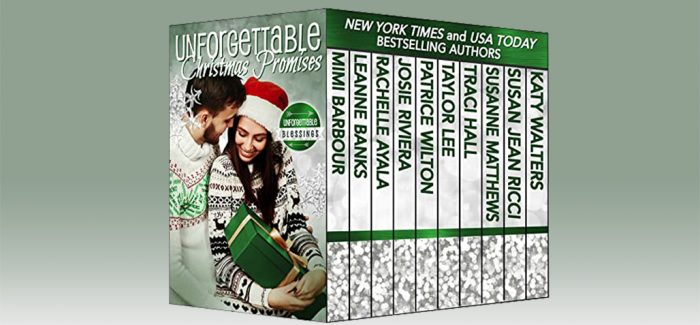 Realtime Price: £0.77
The most magical time of the year captured in TEN heartwarming romances!
A scintillating seasonal stew of Love at First Sight, Second-chance Romance, and Fantasy sprinkled with conniving children looking for a mate for mama.
Ten New York Times andUSA Today Bestselling Authors bring you stories of love, wonder, and surprises. With puppies, mermaids, talking dogs, letter-writing snowmen, department store Santas, firemen, feuding families, and holiday traditions, these tales promise to make your Christmas merry and bright. So, grab your favorite yuletide beverage, curl up on the couch by the fire or in a beach chair by the ocean, and enjoy Unforgettable Christmas Promises, brought to you by THE AUTHORS' BILLBOARD.
Mimi Barbour – Christmas, Puppies, and Romance – He has his claim on the very fluffball she wants… The fight is on for who gets the puppy! New York Times and USA Today Bestselling Author.
Leanne Banks – The Rancher's Best Gifts – When a man and women from feuding families have a temporary secret affair, no one expects the consequences to be forever! New York Times and USA Today Bestselling Author.
Rachelle Ayala – Dashing Through Christmas – Misty Jolly and Dash Weston play guessing games while rushing through a Christmas project with no help from Westie, a "talking" dog. USA Today Bestselling Author.
Taylor Lee – Nuthin's Gonna Stop Us Now – Can two strong-willed people resist the fates and 'not' fall in love? USA Today Bestselling Author.
Josie Riviera – A Portuguese Christmas – Love can come softly, like holiday snow. Or sweep you away like a riptide. USA Today Bestselling Author.
Patrice Wilton – A Santa to Keep – Will the magic of Christmas open the hearts of the widow and the grumpy mall Santa and offer them the best gift of all: love? USA Today Bestselling Author.
Traci Hall – Christmas on Misty Beach – He's a fireman, she's a hot mess. Add dogs, a sick dad, and the holidays, and you've got a romance for the ages. USA Today Bestselling Author.
Susanne Matthews – Come Home for Christmas – Can the spirit of Christmas erase ten years of pain? A second chance romance. International Bestselling Author.
Susan Jean Ricci – Ripples Under the Sea: A Christmas Tale – Two Marine Biologists are swept into the currents of love in this charming Christmas tale of aquatic antics, sorrow, and separation at the most wonderful time of the year. USA Bestselling Author.
Katy Walters – Love Letters from a Snowman – Despite her brother's arguments that a lady shouldn't work, Tabitha takes a post as governess. It's not the position that attracts her but the twinkle in the green eyes of her employer, Lord Balfour. A Regency Romance. USA Today Bestselling Author.
Genre: Contemporary Romance

Unforgettable Christmas Promises: Unforgettable Blessings (The Unforgettables, Book 24) by Mimi Barbour
Amazon UK