No Comments
Free Three Romantic Fictions this Thursday!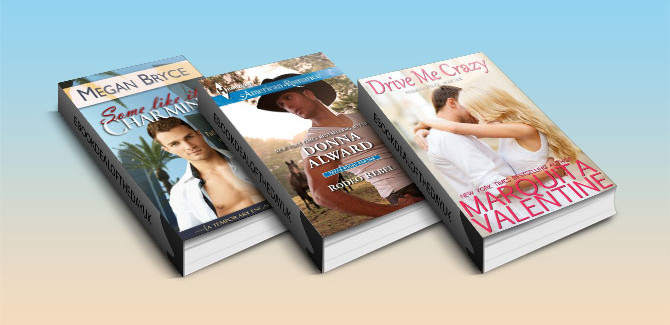 Free!"Some Like It Charming (A Temporary Engagement Book 1)" by Megan Bryce
Genre: Romantic Comedy, Contemporary Romance
Mackenzie Wyatt believes in two things: herself and her plan. And her plan is to keep her head down and to work hard until she can retire. Never mind that she doesn't know what she'll do once she retires– at least she won't be working for the man anymore. Because even though he's a gorgeous man, he's still her boss and he likes to push her buttons.
Ethan Howell O'Connor's charmed life comes to a screeching halt after his latest ex-girlfriend starts a fashionable trend in talking to the tabloids. Now all of Ethan's old girlfriends are talking to the press, ruining his reputation, and wiping that charming smile right off his face. The only person who can brighten his black mood is the same person who can annoy him to kingdom come. He and Mackenzie have feuded since the day she was hired but now Ethan's starting to realize: maybe those sparks were hiding a blazing fire.
Mackenzie's about to find out that sometimes a gorgeous man can come up with a plan all his own, and it's a given that it'll mess hers up.
Free! "Rodeo Rebel (Texas Rodeo Barons)" by Donna Alward
Genre: Western Contemporary Romance
Back in the ring
As the first female bull rider in her circuit, Megan Robertson needs to focus. But all she can think about is her ex, Pax Lantry. Megan knew their paths would cross again—she just wasn't prepared for the effect it would have on her. More surprising than the old heartache is the jolt of pure attraction she still feels for him.
Even after five years, Pax has never gotten over Megan. All it takes is seeing her, just once, for him to know that their connection is as strong as ever. But he's committed to his family's ranch and Meg has her own demanding career. It seems as if Pax and Megan have moved on, so why can't they let each other go?
Free! "Drive Me Crazy: Holland Springs Series, Book 1" by Marquita Valentine
Genre: Contemporary Romance
Holland Springs, Book 1
He's her best friend's older brother
Twenty-four year old Troublemaker Extraordinaire, Melanie Ann Smith, isn't asking for much out of life: a house without wheels, to travel further than her home state and her best friend's older brother, Carter Ambrose. Only three things stand in her way: juggling all of her odd jobs, keeping her daddy from gambling away all of their money and getting Carter to see her as a woman.
She is the one woman who's off-limits…
NASCAR racer, Carter Ambrose, has finally decided to take his doctor's advice and find a new occupation before another wreck on the track kills him. Only his doctor hadn't counted on his little sister's best friend, Melanie Ann Smith, crashing his weeks of solitude with her short skirts and platform heels. And that's not the least of his problems. His mother has decided that she wants grandchildren and the only woman that's good enough for the job-his ex-fiance.
Soon Melanie and Carter agree to a temporary relationship. One with benefits that is mutually satisfying in every way, or so each believes. And just when they are ready admit their feelings, family secrets are exposed, threatening Melanie and Carter's fragile relationship.
Will Carter risk it all for love, or will Melanie be left holding the trophy for second place?