No Comments
Bleeding Hearts by Ashley Bostock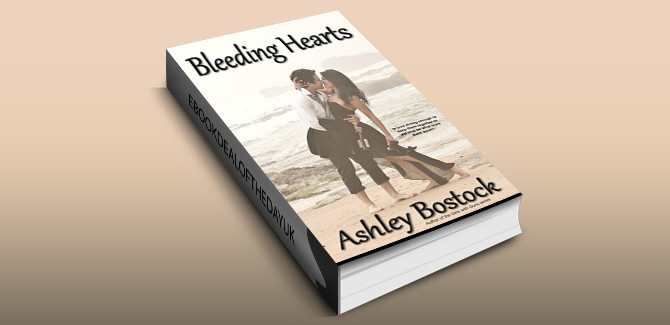 Realtime Price: £0.99

One night in paradise…
Hawaii might be paradise for some people, but not for Violet Lawrence. She's spent every minute of her week taking care of details for her sister's wedding. Finally able to have one night to herself, Violet escapes to a quiet little bar to unwind. Alone. Then she sees him. Tall, funny, mysterious —and sexy as sin. Too damn sexy for her to resist.
Might lead to a lifetime in Purgatory…
Griffen Baxter is happy with his decision to enter seminary school. Or so he thought. So he doesn't understand why he accepted the silly bet from friends to have one last "wild night". Then she walked in. After a few drinks, they give in to their attraction, knowing nothing more than first names and planning to never see each other again.
Without a prayer…
The minute Violet walks down the aisle on the day of the wedding, she's lightning struck. The man officiating is none other than her unforgettable one-night-stud. Further complication? He's about to enter seminary and become a priest! But neither of them have been able to stop thinking about their passionate night together. Before long – and despite their best intentions – they give into desire again and again…
When the full truth he's been hiding from her comes to light, will there be hell to pay?
Ashley Bostock is the author of the newly released Girls with Guns Series. Read on to learn about the first two books in the series.
Gun Shy:
Looking for love…
Marilyn Jacobs has everything in her life that she wants…except the right man. She wants excitement, she wants passion…she wants the gorgeous man she just met! Making a bold first move seemed like the perfect plan until Loverboy ignored her come-on. Her humiliation is only slightly appeased because she knows she'll never see him again. What are the odds, right ?
Or not.
Blake Bryant is all about work, and while casual sex with a beautiful woman isn't something he normally turns down, Marilyn is the ex of his new business partner. Drama and complications are two things Blake avoids more than commitment. No matter how intriguing and tempting Marilyn is.
But when both Blake and Marilyn are caught up in suspicious robberies and high-jackings at the new brewery Blake owns, they both must decide what's really important in life and if they're willing to admit their true feelings…before it's too late.
Trigger Happy:
MONEY CAN'T BUY HAPPINESS…
No one knew that better than heiress Amber Prescott. Money couldn't bring her parents back and money can't erase the guilt she feels over their deaths. Despite what people think, Amber is more than BMWs and designer clothes and when she wants something, she gets it. Currently what she wants is to further the girls' foundation her mother started, to help the women win the competition that could propel them to national league status. Winning is her main focus…until she sees him again.
OR LOVE.
Gage Alexander has worked hard to get where he is. Despite a few hard blows in life, he's finally where he wants to be: In Control. He will take numbers over love or women anytime. Sex, sure, but he will never risk his heart again. But when a past lover strolls into his office, Gage knows she's trouble. The memory of their one night at a sex club so many years ago is something that could ruin his career, and though he tries to avoid her, Amber won't take no for an answer.
While working together, Amber is determined to have Gage in her bed again. She just didn't count on her heart getting involved. But when Gage's life is in danger, Amber must face her fear of losing someone she loves all over again and will be forced to find out if the 'heiress' is more than a spoiled rich girl after all….
Genre: Contemporary Romance


Amazon UK