No Comments
Free Three Romantic Suspense Ebooks!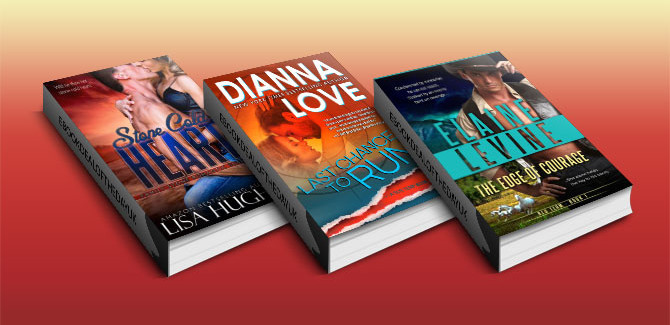 "Stone Cold Heart (Family Stone #1 Jess) (Family Stone Romantic Suspense)" by Lisa Hughey
Genre: Romantic Suspense
Jess Stone, former FBI sniper, always felt like the kid who looks in the candy store window but could never afford to go in. But on a humanitarian mission to aid an earthquake ravaged country, finally she finds a place where she fits, in Colin Davies' arms, and working for Global Humanitarian Relief, her big brother's company. But can the former SAS thaw Jess's stone cold heart?

"Last Chance To Run (Slye Temp)" by Dianna Love
Genre: Contemporary Romance, Suspense
To an undercover agent, she's a Person of Interest. He's interested.
Escaping the compound of a deadly international felon–with a fortune in rare, stolen coins hidden on her body–elite athlete Angel Farentino has to make the most important run of her life. Literally. With her father in prison, where he belongs, and a prior undeserved conviction hanging over her head, she has nowhere to turn and no one to trust. Definitely not law enforcement who railroaded her through a judicial nightmare. One step ahead of lethal men and dogs on her trail, she runs into the arms of a dark stranger willing to help her if she'd let him. But that would only get the sexy pilot killed.
Between figuring out who's sabotaging his undercover work for the DEA and trying to save his baby sister from herself, Zane Jackson has enough on his plate. The last thing he needs is to get entangled with a woman who's treading on the wrong side of the law. But when the long-legged distraction races into the middle of his operation and stows away on his plane, a primal need to protect forces Zane to risk everything, starting with his heart.
Note – This book was originally released as Worth Every Risk. When Dianna received the rights back she revised the story to the much larger romantic thriller version she'd always envisioned, which includes more romance and plenty of action.
"The Edge of Courage (Red Team)" by Elaine Levine
Genre: Military Romance, Romantic Suspense
Step into Elaine Levine's exciting new series of alpha warriors–products of the government's secret corps of assassins called the Red Team:
Haunted by memories he cannot reach, stalked by an enemy bent on revenge . . .

Rocco Silas has come home to Wyoming after long years as a Red Team operative in Afghanistan. It isn't easy returning to civilian life, especially burdened as he is with a staggering case of PTSD or hunted as he is by an enemy determined to seek an eye-for-eye–neither of which can he battle until he confronts the truth of what happened one fateful day in the high mountain ranges of the Hindu Kush.
. . . She alone holds the key to his sanity.

Mandy Fielding's dream of opening a therapeutic riding center on her family's ranch is almost within her grasp–until she hires Rocco Silas, a dangerous ex-Spec Ops friend of her brother's. His haunted eyes and passionate touch promise a love she never dared believe possible. Can they confront the truth of his past and build a future together or will the enemy stalking him destroy them both?