No Comments
Free Three Diff. Type of Romance Kindle books this Tuesday!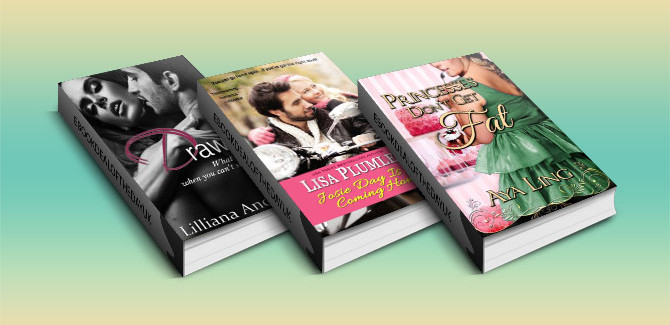 Free!"Drawn" by Liliana Hart
Genre: New Adult, Romantic Suspense
***Content warning*** This is not an alpha male romance. This is an erotic thriller about an obsessive relationship between two people who struggle to maintain their control. Its advised that readers be over 18 years of age before reading this novel due to sexual content and adult situations, including violence and abusive themes.
From the best-selling author of the Beautiful Series, comes Drawn, a powerful tale of a relationship that rides the edge of hate and love and everything in between.
Have you ever felt so drawn to someone, that you will put up with anything to be with them? That's how I feel when I'm around him.
Most of the time, I want to hate him. I want to stay as far away from him as possible. He's so cocky, and arrogant. And he gets in the way and tells me what to do. He's all things that I normally detest in a man. But, when we're alone… I can't even think for myself – the pull is that intense.
I know I should run, I know I should stay away. But I can't. I don't know if I'm strong enough.
What do you do when you just can't stay away? Even when you know you should…
Free! "Josie Day Is Coming Home" by Lisa Plumley
Genre: Contemporary Romance
Her name was Josie, she was a showgirl…
…until the night she Heimliched a martini olive out of fabulously wealthy and eccentric casino owner Tallulah Carlyle. Now Josie Day–proud new owner of one of Tallulah's spare estates–is leaving Vegas behind for…Donovan's Corner, Arizona? Ironically, her "reward" has brought her right back to the dusty hometown she thought she'd left behind forever. Still, Josie's ready to prove there's more to her than feathers and a wicked rumba. She plans to sell the old mansion and use the profits to open a dance school. But first, she'll have to figure out some fancy footwork to avoid knocking heads–and other things–with caretaker and local bad boy Luke Donovan…
It isn't every day a woman like Josie comes strutting into town–which is fortunate, since her presence on the estate has Luke hotter and more bothered than he's been since, well, ever. He's a little annoyed with his Aunt Tallulah, though. This was supposed to be his property to renovate and sell–an opportunity to make good after being cut off from the family fortune. But Josie doesn't have to know that…at least not until Luke figures out a way to make both their dreams come true–and prove that Vegas isn't the only place where taking a chance can change everything…
Free! "Princesses Don't Get Fat" by Aya Ling
Genre: Fairy Tale, Romance
A fairy tale romance with a plus-sized heroine and plenty of dessert.
Princess Valeria of Amaranta is fat, but she doesn't care. All she wants to do is to eat and lead an idle life. When it becomes apparent she cannot get a husband, her mother decides to send her to the Royal Riviera Academy of Fighting Arts. For a chubby princess who has never picked up a sword, life at the Academy is torture. Worst of all, the food is terrible.
Valeria decides to improve Rivieran cuisine by sneaking into the palace kitchens and offering her expertise, never expecting the crown prince would take interest in her kitchen excursions. As they spend more time together, the princess must decide whether she should become thin or stay in the kitchens with her beloved desserts and remain fat.