No Comments
Free Three Romance Kindle Books this Thursday!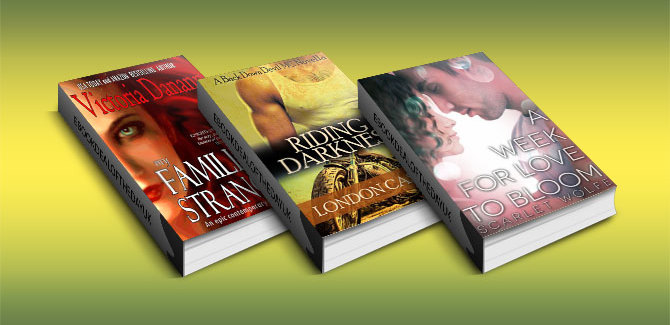 Free!"My Familiar Stranger: An epic contemporary romance. (Knights of Black Swan Book 1)" by Victoria Danann
Genre: Paranormal Romance
In a matter of minutes Elora Laiken lost everything familiar. She escaped death by being forced into an experiment that left her in another world where modern day knights, elves, vampires, werewolves, witches, demons and fae became her allies, friends and family. She discovered a place where romance, fantasy and adventure intersect fairy tales and she learned that love can find you in the strangest places, when you're least expecting it, even when you're far, far from home.
Free! "RIDING DARKNESS (A Back Down Devil MC Romance Novella)" by London Casey
Genre: New Adult, Romantic Suspense
Ares Rhyne has worn a leather cut with a patch before, but the pain that came from having it taken away almost killed him, so he has no desire to accept the patch that Back Down Devil MC keeps offering. Living as a prospect allows him time to heal his wounds and the quiet chance of survival.
On a mission to break up an underground gambling ring, Ares gets caught in a bloody and deadly shootout. When he escapes, he doesn't expect to have a passenger on the back of his ride…
Desperate to finally escape the hell she has been living in, Brooke Danyers was supposed to put the gun to the sexy, tough biker's stomach and pull the trigger. Instead, she froze… and then left with him.
There's revenge to be had, but when Ares discovers who is behind it all – and that his fate with Back Down Devil is on the line – will his steamy romance with beautiful Brooke finally destroy his ties to the club forever?
Free! "A Week for Love to Bloom: 2nd Edition (Soul Mates 101)" by Scarlet Wolfe
Genre: Contemporary Romance, Women's Fiction
Is it coincidence or fate that brings Justin Garrison and Lauren Evans together on the same dark, country road one May night?
Twenty-five year old Justin quit his job on an oilrig in California and traveled back to his hometown of Masonville, Tennessee. He intended for his vacation in Masonville to be a pit stop on his path to creating a future elsewhere, but an encounter with the beautiful and independent Lauren Evans turns Justin's future plans upside down.
After a devastating betrayal by her father, twenty-one year old Lauren is left to manage her family's garden and nursery business in Masonville. Although guarded from the betrayal, she still longs to find love. After a few chance encounters, Justin and Lauren are unable to resist each other.
The magnetic attraction between them opens their worlds to an enthralling period of lust and passion. Will the intensity be too much for them to trust, or will a secret Justin's family holds about Lauren destroy their chance at a future together?