No Comments
The Matriarch Matrix by Maxime Trencavel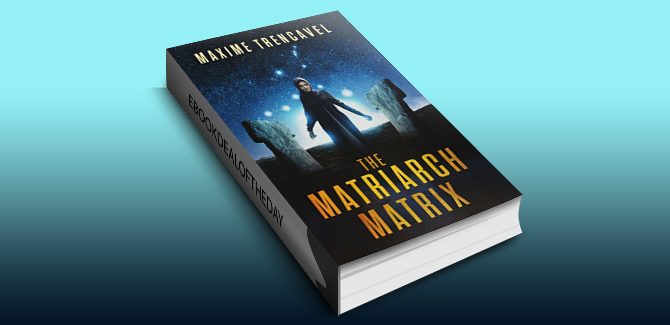 Gracie | On November 2, 2017
Realtime Price: £3.19

"Riveting" * "Suspense and drama" * "Twists and turns"
"Richly colorful" * "Intense and scary" * "Surprising as it is hopeful"

Twelve thousand years ago…
The mystery starts with Nanshe, revered matriarch of the family she led away from the enslaving monstrous giants of the north. In the land that would one day mark the treacherous border between Turkey and Syria, she created the temples at Gobleki Tepe and founded a dynasty, heirs to a powerful object. For millennia, Nanshe's descendants have passed down the legend of the artifact: "The object can save. But only a man and woman together can guide the salvation of others."
The past foretells her future…
In 2021, the mystery comes full face to Zara Khatum. Once a fighter for her Kurdish people, the memory of the enslavement, the atrocities, the violations inflicted by her Daesh captors had Zara seeking only one thing: vengeance – something she found to be empty. Now a woman seeking only inner solace, she is pulled back to confront her worst nightmares trying to solve the mystery of an ancient artifact. What love compelled Zara Khatum back into action working for the world's most dangerous and powerful oligarch? In the past, in another life, she knew the secrets of the artifact – the object. The voice of the ancients call to Zara.
It was always her destiny to die. It was always his destiny to save her. The fate of the world hangs on their choices…
Heirs to destiny…
By fate or destiny, Zara is thrown in with Peter Gollinger, a quirky Californian from the other side of the world and the other side of everything she believes. But he, too, is heeding the voices of his ancestors. Joined by Jean-Paul, a former Jesuit priest, these three people–from vastly different religions and cultures–must find a way to work together to solve a twelve thousand-year-old mystery of the powerful object that spawned a faith. The world teeters on the precipice of war. The outcome depends on them. And one of them is living a lie.
The Matriarch Matrix is a rich and deeply layered epic story – a complex plot-driven spiritual mystery with a heartbeat of a suspenseful action-adventure. It is crafted to inspire you to stop and think, ponder,reflect upon where we came from and where we are going. It blends our past with a speculative future of things that are not so far-fetched. It blends the drama, the love, the comedy and tragedy of three protagonists with different cultures, traditions, and beliefs – a Sufi woman, a Jesuit priest, and an alien origin believing atheist. Their journeys separately and together will be a test of their respective faiths and their inner search for personal and family love and redemption.
An epic speculative mystery like no other.
A story of love like no other.
Am I all that Alexander said?
Did I do to you what he said?
Did I withhold from you what he said?
You did not know for sure.
And yet, you still loved me.
Zara Khatum, June 2021
Genre: Mystery, SciFi


Amazon UK
Watch the Book Video Trailer of "The Matriarch Matrix" by Maxime Trencavel