No Comments
£0.77 "Drums" by Gwendoline Ewins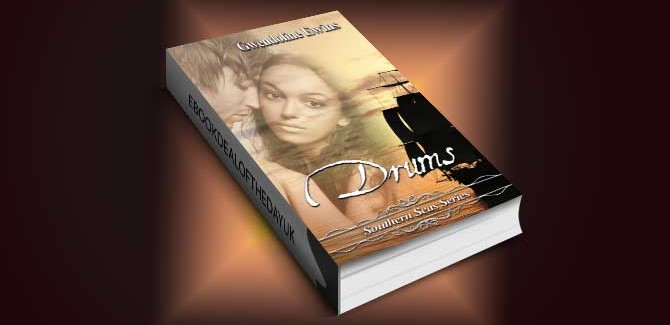 Ebook Deal of the Day:

£0.77 "Drums (Southern Seas Series)" by Gwendoline Ewins
Genre: Historical Romance
Historical Fiction: sensual, intended for 17-plus readers: "absolutely enchanting", "amazing book"
1825, Polynesia. Amelia Yorke is a destitute teacher with a petunia in a flower pot outside her dingy cottage in Sydneytown. Guy Richmond is a botanist seeking orchids in the rainforest and heir to vast lands in New South Wales.
They are from different worlds and should never have met, yet come together on the deck of a sailing ship overlooking a spectacular tropical lagoon.
As drums on the beach threaten, a man desperately paddles for freedom: he is overtaken and soon the aquamarine water of the lagoon is stained by blood.
The Southern Seas Series tells the stories of people who find themselves – for all sorts of reasons – on remote coral islands in the 1800's. They include daughters and sons, adventurers, seafarers, missionaries, traders, teachers, botanists, artists, beachcombers.
In "Who is he?" an artist is attracted by Polynesia's vibrant light but hadn't expected to bring a wife along with him. "A perfect wife for Peregrine Winthrop" tells the story of a young man who relies on others to choose the perfect wife for him and has to live with the consequences. "Unexpected Hero is about a man and a woman who have been acquainted forever but only really meet when he sails to her aid. "Drums" is the story of a destitute teacher who witnesses the slaughter of a man she has never met yet agreed to marry, while a man thanks God for his wife's betrayal.
"The Mistake" will be published soon. It tells the story of a seafarer who blithely believes he is destined to live happily ever after with the vivacious daughter of a missionary – until she makes a mistake he is unable to forgive.