No Comments
Medieval Redemption by Aurrora St. James, April Holthaus, Ria Cantrell, Nancy Lee Badger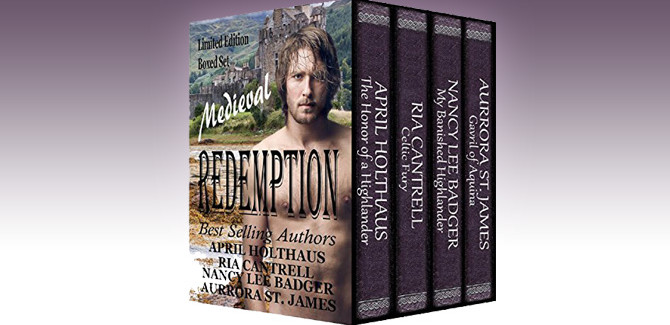 Price: £0.99

Limited edition of four novels by best-selling authors of Medieval romance. Step back in time to experience the romance, passion, action and adventure of men in need of redemption and the women who love them.
The Honor of a Highlander
Laird Rory MacKinnon set out to join William Wallace after discovering an imminent threat that the English have planned an attack. He has given his heart and soul to fight for Scotland's freedom, until he meets a lass who has captured his heart like no other, Lady Annella. After a brutal attack on her land, Rory discovers that Annella has been taken prisoner by the English. Now Rory must fight; not only to secure his own clan's freedom but to save the woman he loves. Starved and beaten for denying to pledge her allegiance to the English King, Annella has earned her place in the gallows. Her fate now rests in Rory's hands.
Celtic Fury
In 14th Century Scotland amid Highland Feuds and Clan division, rugged men fight for their birthrights and their place in history. The MacCollum and Campbell Clans are bitter enemies, especially for the son of the Laird MacCollum, Rory, the fabled and lethal Wolf of the Highlands. When his betrothed is killed at the hands of his enemies, Rory has sworn vengeance on all named Campbell. Darkness pervades this warrior to the point of poisonous destruction. Only Love can save him from the impending darkness, but his heart is walled. Rory aids and rescues a young woman who is broken and battered from a terrible accident. Rory knows he has to save her. In saving her, is it possible to save himself? His heart gradually opens, only to find this woman is his most sworn and hated enemy. Amid lies and betrayal, can Brielle's love save Rory from the Darkness that seeps through his veins? Can her love prevent him from the self -destructive course he has been destined to run?
My Banished Highlander
When his clan convicts Cameron Robeson of treason in 1598 Scotland, the last thing he thought his cousin the Laird would do was banish him to the future. With a certain woman on his mind, he plans revenge while surrounded by the sights and sounds of the modern day New England Highland Games. His plans go awry when a comely redheaded lass wearing the Mackenzie plaid lands at his feet.
Iona Mackenzie is worried about her friend, Haven, and searches for answers among the tents at the games. Whom can she trust to help? When a magical amulet and an angry sorcerer send this unlikely couple back through time, more than one heart will be broken. Will the strong-willed Highlander and the present day witch stop fighting long enough to listen to their hearts? With a letter in her hand and a Highlander at her back, what could go wrong?
Gavril of Aquina
For years, the people of Aquina have been crushed under the hand of Lord Lorcan. Gone are the times of peace and prosperity they appreciated under deposed King Varic Khalon, who vanished the night Lorcan took power. Most believe him dead. Only one man knows the truth. Stripped of his magic and imprisoned, Varic never thought to see his kingdom again. But a twist of dark fate secures his freedom and he returns to the city he loves. Now calling himself Gavril, he finds himself with no home, no magic, no subjects, and no hope of reclaiming the throne, forced to survive any way he can. Until a chance encounter brings him face to face with the one person who may tip the scales in his favor. Shyla de Aven has a single magical gift; sensing others. When a wounded stranger literally stumbles into her, he presents her with a mystery she feels compelled to solve. He proclaims to have no magic, yet she senses it locked far away. Determined to find the answer, Shyla helps Gavril, only to discover they are far more connected than she realizes. If the people of Aquina want their king returned, she will have to discover the key to unlocking his true power, all without losing her heart in the process.
Genre: Medieval Romance, Historical Romance


Amazon UK