No Comments
Free Three Nonfiction Kindle Books this Wednesday!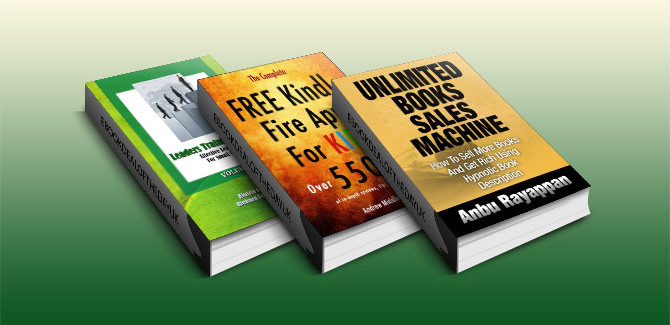 "Leaders Training Course" by Richard Lee Spinos
The Leaders training course effective leadership for small groups is an indispensable resource for small groups and cell group leaders. God has called every Christian to fulfill the Great Commission. This implies that each Christian must develop leadership qualities by stepping up and developing his own quality leadership employing what he has learned by leading a small group. This leaders training course will help.
The leadership qualities of a small group leader are learned! Leaders are not born but cultivated, thus the need for a leaders training course. Jesus trained His own small group or "cell group" as we like to call them. These men began with no leadership qualities. They learned through the years they spent walking with Jesus. In the same way today, small group and cell group leaders must learn the principles that lead to effective leadership and these are not intuitively acquired. Quality leadership is always effective leadership. Leadership is about results and not just organization!
Each lesson of the small group leaders training course shows how you as the leader of your cell group can identify and improve your leadership qualities and exercise an effective leadership resulting not only in your own growth, but also that of the members who you serve.
Christian leadership today is going through a tremendous crisis. The church has confused leadership with administration, which is important but not foundational! The small group leaders training course reinforces this distinction by teaching the proper identity we have as children of God and the purpose that God the Father has for each of His children. This leaders training course teaches the foundations of God's throne and how spiritual authority plays in extending His rule over the earth.
Each small group leader will learn effective leadership qualities by understanding and practicing these principles of spiritual authority. Spiritual authority has been woefully abused through the centuries and as a result many churches have abandoned the principle altogether. The small group leaders training course shows how these principles can be practiced without getting lost in its abuses. The leaders training course teaches the effective leadership qualities that new leaders need to protect themselves and the network of leaders in which they work from the dangers of these abuses.
Each small group leader will learn effective leadership qualities by observing the lives of OT and NT leaders like Moses, Joshua, David, and the Apostle Paul. The effective leadership qualities that these men practiced are often overlooked in the narrative of each gospel account. However, we must recognize that effective leadership qualities are the hallmark of each positive bible character and the negative characters in the bible are presented as models of leadership qualities that must be avoided.
Each small group leader will learn effective leadership qualities in evangelism. How to overcome barriers to evangelism, styles of evangelism, and tips for mobilizing your cell group in evangelism.
Each small group leader will learn effective leadership qualities related to praise and worship. Not every group member will have the gifts for ministering praise and worship but some will and you must know how to lead them into serving the group in this capacity.
"Unlimited Books Sales Machine" by Anbu Rayappan
I need your help! I screwed up BIG Time!! And I apologize to You!!
My friend Andy is very stubborn. He published a book in Amazon about 8 months back. So far, he has sold 7 copies. (One of them was bought by his grandma and another one was bought by his girlfriend.)
I kept telling him to come up with a better book description. But he was not listening to me. Whenever he laments about his book not selling, I feel like strangling him.
What should I do? Should I strangle him? Or just gift this book to him?
Thanks for your help!! That's exactly what I did. (No, I didn't strangle him. Jesus Christ!).
I gifted this book to him. And he immediately implemented all the techniques given in the book. Within 2 days, he sold 17 copies.
7 Sizzling Ways to Start Your Description
— There are some HIDDEN, UNIQUE ways to start the description that would boost the sales
— The book lists the 7 ways with some FANTASTIC Examples.
— Even if you use only one of these 7 Starters, it will make SIGNIFICANT, POSITIVE impact on your sales.
— These 7 Starters are so SIMPLE and EASY to implement. I bet, you will do this in the next 17 mins.
"The Complete Free Kindle Fire Apps For Kids" by Andrew Middleton
Question: Why Do You Need This Book?
Answer: Because you have better things to do with your time than trudge through the Amazon App Store and test tons of apps until you find the best ones
Question: OK. But Why Do You Need To Buy THIS Book?
Answer: Because you need more than just a random list of "Best Kindle Fire Apps." You also need:
To know which apps to download first: Tips and tricks for how to get the most out of the apps
How to find help if you're having a problem with an app?
An in-depth review describing what is good and what is bad about each app
Problem: Even if you have a list of the best free apps, how do you know which ones to install first?
Solution: At the end of this book, all the apps are ranked from best to worst according to a UNIQUE RANKING SYSTEM FOUND ONLY IN MY BOOKS
Question: How Else Is This Book Unique?
Answer: In addition to its unique ranking system, it also offers in-depth reviews that provide the following:
A summary of what the app does
A summary of what is good and what is bad about each app
When available: The app developer's contact information, website information, as well as links to pertinent articles about the app
Tips and tricks for many of the apps (how to get the most from the app)
A brief summary of the positive and negative reviews of the app on Amazon
Question: OK…But What Types Of Apps, Exactly, Does The Book Include?
Answer: A dizzying variety…
Educational Apps
Apps for toddlers, Apps for preschoolers, Apps for elementary schoolers, and Apps for high schoolers in the following categories: Art apps, Book apps, English apps, Language apps, Math apps, Music apps, Reference apps, and Science apps
Game Apps
Arcade game apps, Board game apps, Card game apps, Mind game apps, Logic game apps, Puzzle game apps, and Word game apps
A Note from the Author: My aspiration was to make this book the very best resource of its kind. To that end, I put a great deal of time and effort into researching and writing it. I really hope you'll find it useful!