No Comments
Destination Enlightenment with In-Depth Coverage by Dan Harp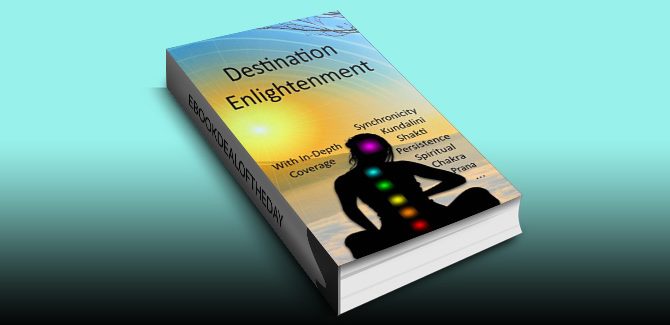 Realtime Price: £7.07

Destination Enlightenment with In-Depth Coverage goes well beyond where similar books venture, including Synchronicity, Kundalini, Shakti, Enlightenment, Meditation, Third-eye, Chakras, Awakenings, Persistence, Spiritual, Prana, Pranayama and much more, with plenty of real world explanations and how-to guidance to avoid the potential pitfalls.
This book is based on yogic traditions, Hinduism wisdom, Buddhism wisdom and firsthand knowledge. Aside from leaving behind the false created-self, the ego, while re-discovering that vibrant expression of selfless-existence connected to the indestructible eternal essence of our lives, there is an emphasis on preparing for the challenges of an enlightenment that "persists" with all the essential skills.
Some awakenings are gradual with signs, others are dramatic and spontaneous, but many forms of awakenings are achievable by anybody, harnessing a wide range of techniques and traditions, ultimately ascending to enlightenment.
For example, synchronicity awakenings will greatly heighten intuition and guide you to your hearts desires in ways that are absolutely mind boggling… It has a lot to do with coincidences, attraction, arousal and what really turns you on. This state is often achieved when you raise your kundalini and activate your sacral chakra, your passion and pleasure center.
Before awakening, I thought all that was really new in the way of sex and 21st century was internet dating, smartphones, more open texting, and more arranged hookups.
Now, to meet that special someone, I wouldn't trade synchronicity for all of the best and most advanced technologies on the market, although I'm sure synchronicity would work through these technologies too.
Once your kundalini is active, there is no rush to raise it to other chakras; take your time to explore each awakening and gain experience before moving on.
Enlightenment is only persistent for the very few who are prepared for it. Those who are unprepared often need to ride the waves and may find they need to get back to basics, which is a lot easier with the right guide, learning from the start how to set your sights on persistence.
Even those already in the know will greatly increase their understanding for an approach that works; however, this book is also well suited for those who just want to learn what's involved, how to proceed and what to expect.
In any case, it's always good to learn as much as you can, beyond the basics, to help ensure smooth sailings. Expect to gain so much clarity after reading this book, along with a helpful reference you can revisit anytime.
Gaining an in-depth understanding is a great place to start, but just knowing what to expect is huge. Adopting the best methods and traditions that actually work is a real confidence builder too. It's good to have a guide that actually helps and clears up a lot of the misconceptions floating around.
Get this book today and enjoy the journey!
Genre: Health, How-to, Selfhelp, Nonfiction

Destination Enlightenment with In-Depth Coverage: of synchronicity, kundalini, Shakti, enlightenment, meditation, third-eye, chakras, awakenings, persistence, spiritual, prana, pranayama and more by Dan Harp
Amazon UK