No Comments
Free Three Kindle Books this Friday!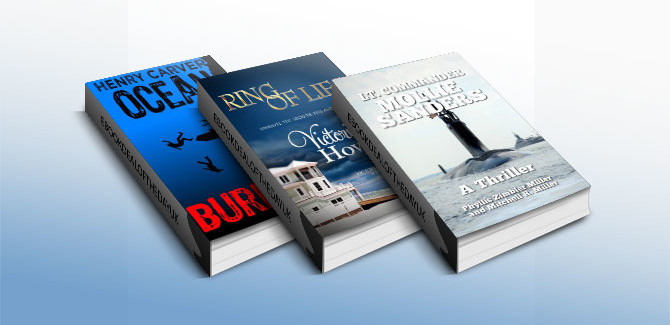 "Ocean Burning: A Thriller by Henry Carver
Genre: Thriller
An old flame. A bank heist. A sinking boat. A ticking clock.
Destitute and living alone on his boat in Mexico, former small-time crook turned charter boat captain Frank Conway sees a light at the end of the tunnel when his ex-girlfriend shows up with her new fiance. He takes them out on a two day cruise, determined to win her back.
But first he'll have to manage to keep her alive. Two men rescued from a sinking boat come aboard toting a phony story and half a million in stolen cash—a meeting that's bound to be more than coincidence. Can Conway save the woman he loves, or will everything in his life burn before his eyes?
OCEAN BURNING is a thriller from Henry Carver, the author of Family Murders, Sheep's Clothing, and BLOODSTAINED.
"Lt. Commander Mollie Sanders" by Mitchell R. Miller
Genre: Crime, Mystery, Thriller
Praise for LT. COMMANDER MOLLIE SANDERS — (a lieutenant commander in the U.S. Navy is equivalent to a major in the U.S.Army):Formatting issue alert especially for Kindle Fire – email [email protected] for replacement copy"This book is certainly full of action, a page turner, most entertaining and a quick read."–Joan A. Adamak
"While much of the story line about the lead character, Lt. Cdr. Sanders, stretches reality a little, it's fun reading. One of my favorite authors, James Patterson, stretches reality as well. As an X-Air Craft Carrier based veteran, I found the story fast moving and entertaining."–Brad Nelson
"Lt. Commander Mollie Sanders is a great read. She embodies the traits of Ziva of NCIS fame. A strong woman operating in a man's world. I can't wait for another book extolling the exploits of Mollie Sanders."–William G. Knapp
For those who love sea adventures (including submarines) and technothrillers:
Lt. Commander Mollie Sanders is a U.S. Navy officer who has striven to be the best even if it earns her enemies. A graduate of the Naval Academy, she is an electronic weapons officer tasked with coming up with new weapon designs.
When she gets assigned to an aircraft carrier as a Navy fighter pilot's backseater, a missile attack on her plane leads to a mission to try to save the port of Los Angeles from a suspected terrorist attack.
She must channel her overwhelming competitive drive in order to work as a team with other Navy personnel and the Coast Guards to find a needle in a haystack.
From there a twist in the mission takes her to Alaska, where the anti-missile defense site may have been compromised.
Next she bulldozes her way into being the first female assigned to a sub smaller than a boomer. She wants to be the one to test the new defensive weapons system she designed as the sub undertakes a reconnaissance mission to the hotly contested South China Sea.
She is unaware that her past is about to catch up to her present in a bizarre situation she could never have foreseen.
This U.S. Navy submarine sea adventure is a fast-paced thriller.
"Ring of Lies" by Victoria Howard
Genre: Romantic Suspense
When English accountant Daniel Elliott dies in a car accident one rainy night, his widow, Grace, is overcome with grief…and panic. Daniel was controlling and their marriage loveless, but he always took care of the sheltered Grace.
Or so she thought.
She soon discovers Daniel kept secrets: an alias, mob ties, a list of numbers, a mysterious beach house in Florida….and a girlfriend who looks like Grace. Swallowing her fear, she flies to Miami to claim the house Daniel left her. But the price of her curiosity is peril. Underworld figures stalk her. The other woman has left a damning trail of evidence pointing her way. And handsome, troubled FBI agent Jack West has crossed precarious paths with Grace before. He could be her savior or her damnation. All she knows for certain is that she longs to be in his arms.
With little to go on and danger at every turn, Grace must depend on Jack to help her navigate the criminal world of south Florida, and find the truth behind the Ring of Lies.