No Comments
Special Agent Francesca by Mimi Barbour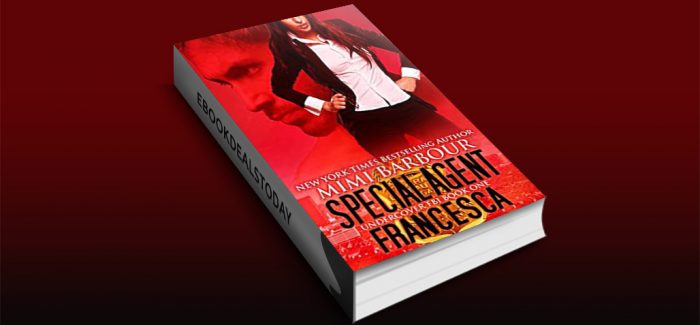 Realtime Price: FREE
An introvert, Special Agent Francesca moves to Las Vegas to escape her powerful, domineering mother. On arrival, multiple obstacles challenge her. She needs to approach a father she's never met, a man who doesn't even know she exists. Then she must play the role of a loving fiancée with a stranger. One who makes her question every unexpected emotion he provokes. Craving the chance for real undercover work, she grabs the opportunity to be involved in cleaning up gang corruption in a nasty neighborhood. When she poses as the new owner of a hotel, the deadly-dangerous situation ramps up and she's forced to fight her way from one conflict to the next.
Sean Collins, Psychiatrist and LVPD Profiler, has never known anyone like Francesca Donovan. From first sight, he believes her to be a screwball but her beauty and maddening personality attracts him. Despite her prickly disposition, which gets them into a load of trouble, her rotten driving skills and her constant battles, he's hooked. Once he's roped into a mock engagement with her, his desire to make it real takes precedence over everything else in his world.
Undercover FBI Series:
Special Agent Finnegan – Undercover FBI Series Book #2
Finn's a cop who adores his quirky dad. He knows this soft core leaves him vulnerable, so when he meets his new partner, Reneé, the thought of her in danger drives him crazy. Going under cover to find New York's suicide killers ensures constant conflicts, and through it all, a solid thread of love entwines all three of the main characters.
Special Agent Maximilian – Undercover FBI Book #3
Nik Baudin discovers an identical twin – one he never knew existed. Taking over his brother's identity, he becomes Special Agent Maximilian and gets embroiled in a case where high jacked young girls and trafficking of illegal drugs endangers his life and that of Max's gorgeous partner, Maya.
Special Agent Kandice – Undercover FBI Book 4
Special Agent Kandice wants to be tough like the others on her team. And she wants to impress her new aloof boss, Dan Black. Being the chief hostage negotiator at a bank heist starts the process. Being stalked, kidnapped and beaten helps see it through. In the end, pulling the trigger comes easy…
Special Agent Booker – Undercover FBI Book #5
Sloan Booker has multiple quirky dads & a vehicle restoration shop that keeps him away from his job as an FBI agent. When terrorists threaten his neighborhood, he's back in the game. This time, with a partner – a gorgeous chick who looks like a super model, has a little boy she needs to protect and exhibits a disposition that's downright cranky.
Genre: Romantic Suspense

Special Agent Francesca (Undercover FBI, Book 1) by Mimi Barbour
Amazon UK