No Comments
Special Agent Hunter by Mimi Barbour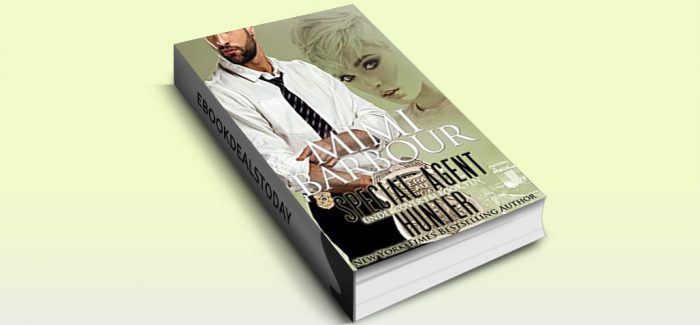 Realtime Price: £2.95
Detective Cora Taylor isn't expecting the cop who'd haunted her dreams for ten years to return and find her drunk, wearing a torn wedding dress, and surrounded with tiny, white puppies. Go figure her rotten luck. The last time they'd met, she'd been a sweet-looking rookie too fearful to shoot a killer who ended up later murdering a family of four.
Guilt from that night changed her into a speed demon, a hardened detective with colorful language… in fact a whole new persona. One who wears too much makeup, bleaches her short messy hair, and has developed many professional skills that earn everyone's respect.
Agent Kal Hunter remains flummoxed by the altered vision of the pony-tailed rookie he remembers to the sexy woman he sees today. Being OCD about most things in his world this unconventional female rings his bell constantly. Besides his need to have her assistance in stopping the ten-year-old, cold-case killer who's again on a rampage, there is something about her he can't resist.
She's her own boss, a cop who has no illusions. Yet when her shell is penetrated, there's sweetness that rips a man to pieces.
He has only one worry.
When they meet up with the savage killer this time, will… can she take the shot?
The Undercover FBI Series:
Special Agent Francesca – Undercover FBI Series Book #1 This special agent flies her own plane, drives like a maniac & approaches a father who never knew she existed. Nothing scares her, except for one thing… MEN.
Special Agent Finnegan – Undercover FBI Series Book #2 Finn's a cop who adores his quirky dad. He knows this soft core leaves him vulnerable, so when he meets his new partner, the thought of her in danger drives him crazy.
Special Agent Maximilian – Undercover FBI Book #3 Nik Baudin discovers an identical twin – one he never knew existed. Taking over his brother's identity, he becomes Special Agent Maximilian and gets embroiled in a case where high jacked young girls and trafficking of illegal drugs endangers his life and Max's gorgeous partner, Maya.
Special Agent Kandice – Undercover FBI Book 4 Kandice wants to be tough like the others on her team. Being the chief hostage negotiator at a bank heist starts the process. Being stalked, kidnapped and beaten helps see it through. In the end, pulling the trigger comes easy…
Special Agent Booker – Undercover FBI Book #5 Sloan Booker has multiple quirky dads & a vehicle restoration shop that keeps him away from his job as an FBI agent. When terrorists threaten his neighborhood, he's back in the game.
Special Agent Charli – Undercover FBI Book #6 Charli's stressed to the max from a case that went down badly. So why does fate stick her with a teen who sees a murder and will only go into witness protection if her bodyguard is Charli?
Special Agent Rylee – Undercover FBI Book #7 Playing bodyguard to a spoiled, handsome billionaire while sailing on a Caribbean Cruise isn't the kind of dangerous case Agent Rylee delights in… yeah right
Special Agent Murphy – Undercover FBI Book #8 Murphy is the one cop women love to be near and men feel the need to compete against.
Special Agent Sophia – Undercover FBI Book #9 Sophia can go to Greece and rescue the governor's twins, but can she save a young girl from dangerous traffickers?
Special Agent Hunter – Undercover FBI Book #10 Hunter is after a cold-case killer who's started up his nasty tricks again, and Detective Cora Taylor is the perfect woman to assist him, along with Sam – the biggest, ugliest dog alive.

Genre: Romantic Suspense

Special Agent Hunter (Undercover FBI, Book 10) by Mimi Barbour
Amazon UK