No Comments
More Ketchup than Salsa by Joe Cawley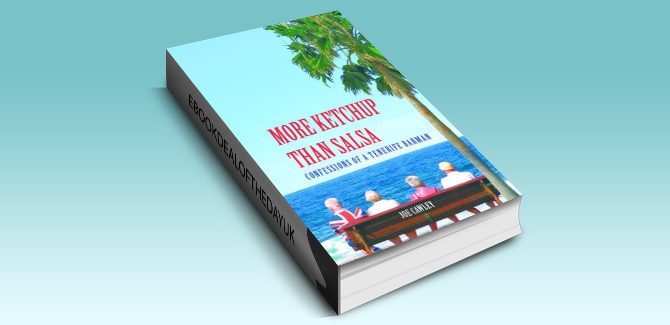 Realtime Price: £3.99

Have you ever thought about making a new life abroad?
"Dreams can come true!"
"Fantastic, hilarious, painful. Completely un-put-downable. Probably the best book I have read this millenium!"
"If you buy one book this year… get this!"
"Brilliant book… very funny…"
"It was while holding aloft a not altogether pleasant-smelling mackerel that the decision was made. The March rain hammered on the rotting tin roof high above the market stall, where I had spent the last six months pushing out dubious trays of marine life at three for a fiver. After a two-week holiday in Tenerife, one of Spain's Canary Islands, Joy and I vowed that a life in fish giblets was not going to be our destiny and a life in the sun, was.
A complete lack of catering experience, zero business acumen and the sum of our vastly wealth barely reaching waist level of a ceramic pig did little to deter our enthusiasm. "Where do we sign?" we replied. And then the whole silly, sunny saga began…" Joe Cawley
When Joe and his girlfriend Joy decide to trade in their life on a cold Lancashire fish market to run a bar in the Tenerife sunshine, they anticipate a paradise of sea, sand and siestas. Little did they expect their foreign fantasy to turn out to be about as exotic as a wet Monday morning.
Amidst a host of eccentric locals, homesickness and the occasional cockroach infestation, pint-pulling novices Joe and Joy struggle with the expat culture and learn that, although the skies might be bluer, the grass is definitely not always greener.
An hilarious travelogue exposing the wild and wacky characters of an expat community in a familiar holiday destination, More Ketchup than Salsa is full of humor and is a must-read travel memoir for anybody who has ever dreamed about moving abroad, finding a job overseas or even momentarily flirted with the idea of 'doing a Shirley Valentine' in these trying economic times.

Genre: Humour, Memoir, Travel


Amazon UK