No Comments
THE KILL SANCTION: An Action Thriller Novel by Charlie Moore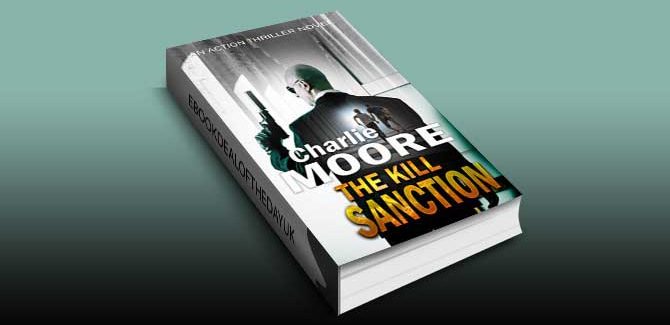 Realtime Price: £2.83

Deadly. Damaged. Dangerous
In a world where the fate of many are dictated by the actions of a few, a rogue Agent discovers a covert operation bent on taking control of the country's intelligence network and gaining absolute power over the government.
Driven by revenge, Shirin Reyes keeps moving forward, hunting, and being hunted, from one battlefield, ambush, and gun fight, to the next.
When the hunter becomes the hunted, Shirin finds herself torn between her all consuming vendetta and the consequences her actions have on those she cares about.
For fans and readers of Vince Flynn, Matthew Reilly and Russell Blake.
Q&A with Friends and Fans
Q: How did 'The Clock' Action Thriller series come about?
A: I'm a big fan of espionage books, spy thrillers and well written action packed stories. So when the time came, there was no question; I wanted to write the kind of book that I love to read. I really wanted to make it one of those fast paced books that pushes spy thrillers to a new level of Adrenalin.
The idea that would become The Kill Sanction, and the whole series, came from a graphic novel I was developing at the time. It was in that vein; wild, crazy, fun, scary and thumping with action. The story of a spy working against powerful enemies in the pursuit of justice became a solid vehicle for me to explore just how far a person would be willing to go, and how much of themselves they were willing to sacrifice to bring closure to their pain. That quickly developed into the action packed espionage adventure series 'The Clock'.
Q: Each book in the series reads like a movie. Was that the intention when you wrote them?
A: Absolutely. I live and breathe the writing process. I visualize every scene, every character nuance, every sight, smell, movement, emotion.. you get the idea. There has been chatter about it being made into a movie. At this stage, there's nothing official to report. But stay tuned…
Q: The action scenes are so fast, and the fights so well described. Can you tell us more about your process?
A: I'm glad fans and reviewers are saying that! Contrary to what we see in movies, real life hand to hand combat and even gun fights, happen very quickly. I rehearse most of the fight scenes myself, and have someone time them with a stopwatch. They are real in the sense that the techniques are real, the speed is real, the effect is real.
When I read spy stories or any action thriller, I'm looking for action that is fast, intelligent, and stretches the boundaries of the genre. So naturally, that's what I love to write as well
Q: The Kill Sanction is part one of the action thriller series, how many parts will there be?
A: Good question. "The Clock" action thriller series will officially have three parts, although fans are telling me they want more… Part one and two are available now, with the third coming soon. I'm about to release a Prequel to The Kill Sanction, titled "Dark Days". And I'm also giving a novelette, follow up to Dark Days called "Hunting Albert Trickle" for FREE to members of my Readers Club.
So, chronologically the series will look like this;
1. Dark Days (prequel Novella)
2. Hunting Albert Trickle (FREE for Members)
3. The Kill Sanction(part 1)
4. Dead Reckoning(part 2)
5. The Redeemed (part 3)
Meet Shirin Reyes in this new action espionage spy thriller series. Scroll up and get your copy now!
Genre: Action, Espionage, Suspense, Thriller

THE KILL SANCTION: An Action Thriller Novel ('The Clock' Action Thriller series Book 1) by Charlie Moore
Amazon UK