No Comments
How To Master Self-Hypnosis In 5-Steps: The Simple Way To Get What You Truly Desire by Louis Queen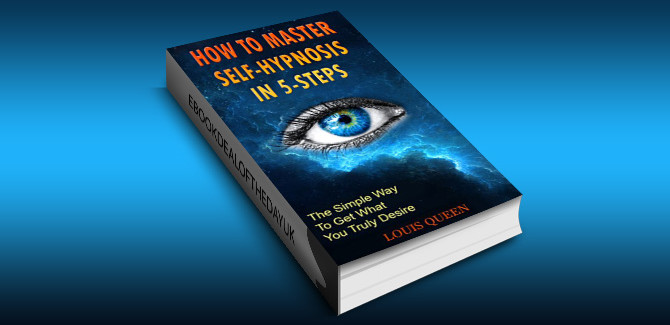 Realtime Price: £2.37

Self-Hypnosis: The Simple Way To Get What You Truly Desire
Do you want to MASTER self-hypnosis?

You're curious about self-hypnosis and want to know the potential?
You've never succeeded to induce a trance state so we don't even talk about an arm levitation or a hallucination…
You're TIRED about all of those books who "teach" self-hypnosis using scripts? It's time to practise a real method WITHOUT SCRIPTS…
How To Enhanced Your Everyday Life With The 5-Step Method
Find everything you need to enhanced your everyday life:
How I Succeed To Fall Asleep In 5-Minutes And Wake-Up Without Snoozing Every Single Bloody Day
My Three Favorites Ways To Relax That Work For Stressed People
How My Favorite Client Loses 51 Pounds Without My Help
The Lazy Method To Change Anything When You Don't Know How To Do (I Love It)
How To Forgive Someone Or Yourself (Even When You Can't Forget)
The 6-Steps Method I Used As An "Excellence" Sportive To Reduce Pain (For Chronicles Afflictions And Sportives)
The Advanced Techniques To Go Deeper And Master Self-Hypnosis

Back in time, I was tired to read books who only scratch the surface of what you can do using self-hypnosis. Here's the method to go deeper:
How To Create Your Own Council Of Geniuses In 3-Easy Steps
What Triggers Your Mind Using The Art Of Suggestion
The Method To Do A Past-Life Regression Safely
How To Do And Use Lucid Dreams To Enhance Yourself (Time To Learn How To Fly)
Beyond Schizophrenia (How To Negotiate With Your Unconscious Mind)
3 Methods For An Instant Self-Hypnosis Trance (Useful In The Subway)
Most of the self-hypnosis books showed you the tip of the iceberg. Now it's time to see the rest and go for a journey deep down with your unconscious mind.
A Real Method, Not Only Scripts
If you believed self-hypnosis was just about scripts, it's far away from the truth.
Scripts are a crutch who supports you at the beginning, but you can't have results without using a method.

It's even easier than scripts because you're the one in charge.
No words who scratch your ears, nothing to record. Just your thoughts.
A Guided Self-Hypnosis Audio Offer To You
I don't believe in using ONLY scripts and recorded hypnosis.
However, they can help you to get more confidence. So I record this guided self-hypnosis audio for you in a private studio from London. You'll just have to follow my voice and I'll guide you to a trance state. After that, you'll be able to do it without my help wherever you want: from your cosy couch to the subway.
Genre: Selfhelp, Nonfiction


Amazon UK