No Comments
2/8 Three Free Kindle Books 'til tomorrow!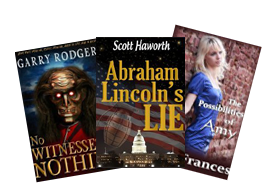 Three Free Kindle Books 'til tomorrow!
"No Witnesses To Nothing" by Garry Rodgers
Do you believe in ghosts?
No Witnesses To Nothing is a novel based on a true crime story straight out of CSI or The X-Files where many believe that paranormal intervention occurred.
Sergeant Sharlene Bate, of Vancouver's Integrated Homicide Investigation Team, pries open Pandora's Box when two drug informers are brutally executed and a tragedy occurs when two young Mounties attempt to capture a madman terrorizing the Canadian Yukon wilderness.
No ordinary madman, the local Tlingit people say. It's The Kushtaka. The Wildman-Of-The-Woods. The mythical being who tricks you, kills you, and steals your soul.
As Sergeant Bate digs deeper, she discovers more of the legend: In a gunfight with the shapeshifter, the two officer's souls are trapped in a twilight zone – the world in-between.
From the treacherous Hells Angels cocaine conspiracy in the prisons of America and the jungles of Colombia – to the spiritual journey in a Shaman's sweatlodge deep in the Australian Outback – is there an entity now hunting for Sharlene Bate's soul?
No Witnesses To Nothing is a book about karma – what goes around, comes around; both in life and in death. Disguised as a can't-put-down murder mystery, Sergeant Sharlene Bate's investigation reveals a secret bridge connecting science and spirituality along the pathway to understanding the essence of our existence – the soul.
" The Possibilities of Amy" by Jaye Frances
Amy is the ultimate trophy girl–gorgeous face, killer body, and a vivacious personality. But there's something else about her, something that makes her even more special. Amy is new. A transfer student from out of state, she's starting her senior year without knowing a soul. And that means she's up for grabs, available.
Infatuated from the moment he sees her, David is determined to meet Amy, and if the fates are willing, to spend the rest of his life with her. But his shyness prevents him from approaching her–until his friends devise a contest to determine who will be the first to prove their manhood by seducing her.
This kindle ebook is an adult fiction romance laced with nostalgia about relationships and teenage dating. A contemporary romance novella by indie author Jaye Frances, this short story is a coming of age tale about high school romance, exploring the hopeful fantasy of love at first sight. "The Possibilities of Amy" is available as a free kindle ebook through the Amazon Prime program.
"Abraham Lincoln's Lie" by Scott Haworth
Abraham Lincoln once said, "A house divided against itself cannot stand." Senator Nick Bennett believes that it should not stand. Disgusted with partisan politics, Nick calls for America to be split up by political ideology. The idea of living in separate utopias is wildly popular with Americans. The blue states form the Progressive States of America and the red states create the United States of Ronald Reagan. The two new governments are free to address foreign relations, economic policies and social laws without the interference of an opposition party.
While the P.S.A. thrives, the U.S.R.R. is crippled by the inanity of its conservative ideology. A generation of its citizens receives a terrible education and loses the right to privacy. Many are killed either by an abhorrent health care system or the preemptive wars their government starts. The dreadful conditions inside the U.S.R.R. enrage the conservative citizens. Revolution seems inevitable, and the conflict threatens to engulf the liberal country as well.
Abraham Lincoln's Lie contains political and social satire and is intended for a liberal audience. The novel takes a humorous look at how fiercely debated ideas could actually be implemented by the two ideologies.