No Comments
More Jeopardy by Rowanna Green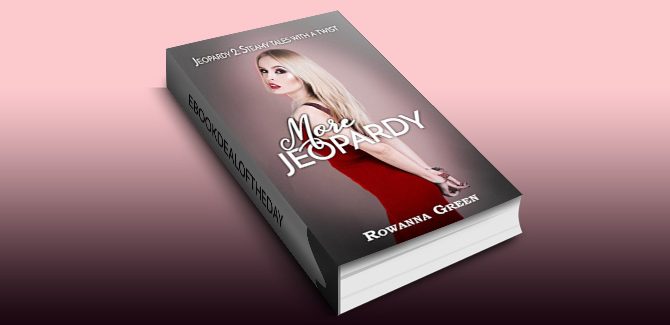 Realtime Price: £2.32
Hot, Hilarious and Hair-raising
Sexy Lexie gets in some right pickles with strippers, whips and a hairy monster. Vicky endures two tricky situations, and Sassy Cassie gets tied up with Shakespeare, handcuffs and a Mars Bar.
These five shorts, set in 80s England, combine the steamy glamour of Sex in the City and nutty adventure of Desperate Housewives with dark twists, all slathered in Benny Hill's saucy humour to stop it getting too scary.
Men of Steel A dazzling spotlight. A crowd baying for flesh. What choice did she have?
Peering into the predatory audience, Lexie wonders how on earth she ended up onstage in a stripshow as scenes from a monstrous childhood nightmare engulf her.
Teacher's Pet A creepy professor. A resentful housemate. Where does it say feel free to take advantage?
Trapped in his isolated office, Vicky realises Dr Parr wants to teach her more than just economics. If only she'd listened to Jason's warning – where was that rugby-playing hunk when she needed him?
Dating Danger Mixed messages. Dark yearnings. When play-acting stops being a game.
Bent over his sofa, Cassie realises misread signals have given Kent the wrong idea about exactly what she wants. Who knew opera and Shakespeare could do that to a man?
Is it Me? A hot date. A perfect evening. What did she do wrong?
No one was more surprised than Lexie when the geek sat opposite grew a pair and asked her out. Her wildest dreams couldn't have predicted the perfection of the evening, nor the disastrous ending.
Pain and Pleasure A loving hug. A light caress. Why does it hurt so much?
Mark's big secret bore no relationship to the way the evidence pointed. As the rumours escalated, no matter which way she added two plus two it refused to make sense, let alone four. When she finally confronted him, the truth surprised and delighted her.
Warning: Although generally lighthearted, these steamy, office-based shorts with a twist in the tail are not for the faint of heart. Or under-18s. Or people who don't like their heroines in too much trouble.
***For mature audiences only***
Genre: Romance, Women's Fiction, Shortstories

More Jeopardy: Steamy Tales with a Twist by Rowanna Green
Amazon UK