No Comments
In Her Footsteps by Ruth Harrow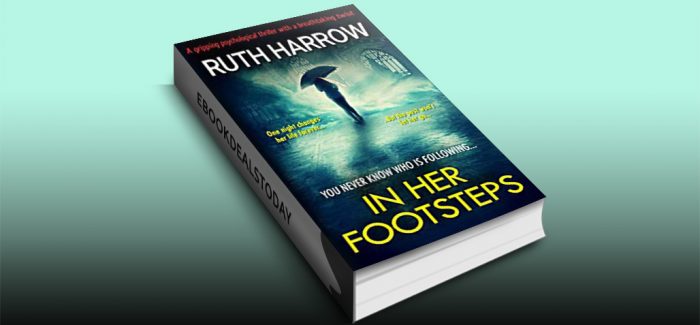 Realtime Price: £0.99
"…the most amazing, unexpected twist… I just couldn't read fast enough!"
THE AMAZON KINDLE BESTSELLER!
One night changes her life forever… But the past won't let her go…
Harriet is trapped in an unhappy marriage to her abusive husband, Dan. She dreams of a life where she does not have to live in constant fear. One night, she finally summons the courage and makes the life-changing decision to leave him behind for good. She leaves with only a suitcase and a closely-guarded box she is terrified of anyone discovering…
Eighteen-months on, Harriet has her freedom. Or does she? She is living her lifelong dream of running a successful art gallery. She should be happy, but things are not what they appear. Her perfect world is plagued by crippling anxiety and disturbing nightmares. Dark secrets from her past threaten to tear her new world apart.
Why is she so terrified of her own family finding her? Can she ever truly escape the past?
Soon, Harriet will learn that running from her worst fears is a dangerous mistake and one that will have deadly consequences.
In Her Footsteps is a gripping psychological thriller with a breathtaking twist. Perfect for fans of Clare Mackintosh, K.L. Slater, Lisa Hall, Sue Fortin and Laura Marshall.
__________
What people are saying about In Her Footsteps:
"Brilliant, couldn't put it down. The surprising twist is jaw dropping. Highly recommended if you enjoy suspense and intrigue. Great story."
"…we are hit with the most amazing, unexpected twist just over halfway through the novel… and from then on the pace is so fast that I just couldn't read fast enough!"
"…I made sure I read every word and also lost a nights sleep reading it. Really enjoyable and tense…"
"…It lured me into really getting to know the main character, before delivering a stunning unexpected twist about halfway through the novel…"
"OMG absolutely terrific. What a totally gripping story. Everybody who likes psychological thrillers will really love this one it's gripping from beginning to end."
"…I couldn't put this book down. It had me guessing what was going to happen next. Five stars…"
"…Held my breath all the way through reading this cracking grip lit novel. Had me gripped from the first page. Couldn't tell where it was heading and the twist left me completely reeling. Fantastic…"
"…A fantastic debut. Had me hooked from beginning to end. Looking forward to more from this author…"
"…A clever and gripping read with a stunning twist that really stays with you for days afterwards. A must read…"
"…A gripping and twisty little read that fans of Erin Kelly's He Said/She Said will love…"
Genre: Psychological-Thriller, Suspense

In Her Footsteps: A Gripping Psychological Thriller With a Breathtaking Twist by Ruth Harrow
Amazon UK