No Comments
Free Three Kindle Books this Wednesday!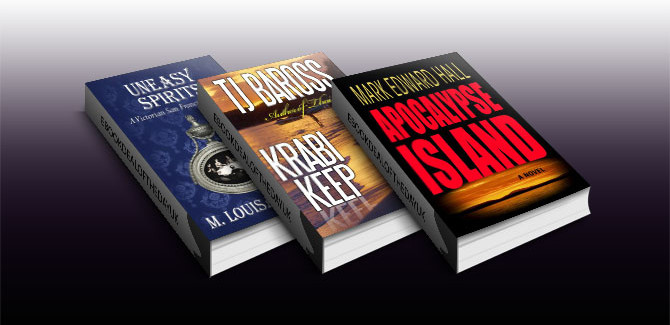 "Uneasy Spirits: A Victorian San Francisco Mystery" by M. Louisa Locke
Genre: Historical Fiction, Mystery
In this sequel to Maids of Misfortune, it is the fall of 1879 and Annie Fuller, a young San Francisco widow, has a problem. Despite her growing financial success as the clairvoyant Madam Sibyl, Annie doesn't believe in the astrology and palmistry her clients think are the basis for her advice.
Kathleen Hennessey, Annie Fuller's young Irish maid, has a plan. When her mistress is asked to expose a fraudulent trance medium, Arabella Frampton, Kathleen is determined to assist in the investigation, just like the Pinkerton detectives she has read about in the dime novels.
Nate Dawson, up-and-coming San Francisco lawyer, has a dilemma. He wants to marry the unconventional Annie Fuller, but he doesn't feel he can reveal his true feelings until he has a way to make enough money to support her.
In Uneasy Spirits, this cozy historical mystery of romantic suspense, Annie delves into the intriguing world of 19th century spiritualism, encountering true believers and naïve dupes, clever frauds and unexplained supernatural phenomena. She will soon find there are as many secrets as there are spirits swirling around the Frampton séance table. Some of those secrets will threaten the foundation of her career as Madam Sibyl and the future of her relationship with Nate Dawson, and, in time, they will threaten her very life itself.
Uneasy Spirits is the second book in M. Louisa Locke's Victorian historical mystery series, the first is Maids of Misfortune, and there are currently two short stories based on the characters from the novels, Dandy Detects, and The Misses Moffet Mend a Marriage.
"Krabi Keep" by TJ Baross
Genre: Action & Adventure
Can you decipher the riddle?
After six years of duty in the navy, Dalton Paine returns home to Alaska anxious to see his Aunt Kate, who raised him, to marry his Thai girlfriend, who waited for him, and to follow the trail of his ancestors, who were gold rush prospectors.
Mourning his aunt's untimely death days before his arrival, he follows his legacy upriver only to find what he never expected, an amulet and a journal on a 250 year old skeleton.
Beached in a storm on an uncharted island, and befriended by the Thai monk who saved his schooner, and entrusted with the delivery of an amulet, and cursed in the task by war and shipwreck, and revealing the secret with his last scribbled breath was the amulet really a map to a hidden treasure?
Only after his girlfriend's younger sister is kidnapped back in Thailand does Dalton find that question in need of an urgent answer.
"Apocalypse Island" by Mark Edward Hall
Genre: Mystery, Thriller
A small Maine city has turned into a killing ground.
Is it a serial killer, someone with a penchant for the macabre and a need to destroy?
Or is it a darker force, an ancient legend from a mysterious Island come ashore to wreak havoc upon the unsuspecting?
Amid the backdrop of Portland's burgeoning night scene, Police Lieutenant Rick Jennings discovers that no one is safe, and that evil has many faces.