No Comments
Free YA Vampire, Paranormal fiction kindle books!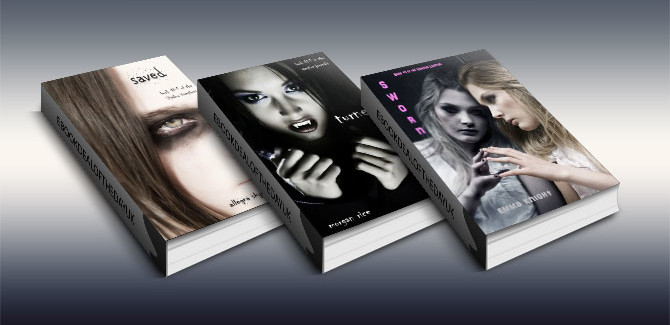 Free! "Saved (Book #1 of the Shadow Vampires): Shadow Vampires Series, Book 1" by Allegra Skye
Genre: Paranormal Fantasy
In SAVED (Book #1 of the Shadow Vampires), Keira and Amanda, twins, move with their family to a new town, and start their senior year at a new high school. But though they are twins, the girls have different fates. Amanda, beautiful, popular, is sought out by everyone. Keira, who has always lived in Amanda's shadow, is smaller, awkward, different. Even her mother, who is so close to Amanda, doesn't know what to make of her other daughter. Keira turns to books, and to her journal, for solace, and to find out about other worlds.
Amanda makes friends easily at the new school, and quickly finds a boyfriend, while Keira is left alone, an outsider. But very quickly, it is clear that something strange is going on in Everstock. The town and the school are very divided. The popular, rich kids act as if they own the school and have nothing to do with the other kids, who are poorer and live in a different part of town. Not only are the kids meaner here, but an unknown infection has gripped the town, with more and more people going to the hospital. Something here is terribly wrong.
But things change suddenly, as there is a terrible accident involving the twins. Not only are Keira and Amanda's lives changed forever, but a new dimension of life begins to open to Keira.
As Keira recovers, she begins to change in ways she can't expect, receiving new and mysterious powers that no one can possibly understand. At the same time, a gorgeous, mysterious new boy, Cooper, appears at the school, who grips her imagination, and who refuses to tell her what secret he is hiding.
As Keira and Cooper grow closer to each other, it soon becomes apparent that destiny has brought them together—and that they may each have to sacrifice it all if they want to stay together…
Free! "Turned (Book #1 in the Vampire Journals): The Vampire Journals, Book 1" by Morgan Rice
Genre: Paranormal, Suspense
In TURNED (Book #1 of the Vampire Journals series), 18 year old Caitlin Paine finds herself uprooted from her nice suburb and forced to attend a dangerous New York City high school when her Mom moves again. The one ray of light in her new surroundings is Jonah, a new classmate who takes an instant liking to her.
But before their romance can blossom, Caitlin suddenly finds herself changing. She is overcome by a superhuman strength, a sensitivity to light, a desire to feed–by feelings she does not understand. She seeks answers to what's happening to her, and her cravings lead her to the wrong place at the wrong time. Her eyes are opened to a hidden world, right beneath her feet, thriving underground in New York City. She finds herself caught between two dangerous covens, right in the middle of a vampire war.
It is at this moment that Caitlin meets Caleb, a mysterious and powerful vampire who rescues her from the dark forces. He needs her to help lead him to the legendary lost artifact. And she needs him for answers, and for protection. Together, they will need to answer one crucial question: who was her real father?
But Caitlin finds herself caught between two men as something else arises between them: a forbidden love. A love between the races that will risk both of their lives, and will force them to decide whether to risk it all for each other…
Free! "Sworn (Book #1 of the Vampire Legends): Vampire Legends Series, Book 1 " by Emma Knight
Genre: YA, Paranormal
When her dad is transferred, Rachel Wood is uprooted from her home in Pennsylvania and forced to enter a new high school, in 10th grade, in an affluent suburb in Westchester, New York. She finds herself in way over her head, as she struggles to come to grips with meeting new friends, finding a boyfriend, avoiding the cliques of mean girls, and figuring out how to survive in such a hostile new world. She has trouble navigating this new world, where drinking and drugs seem the norm, and where social pressures build on her from every direction.
Everything seems to go wrong for Rachel, until salvation comes in the form of Rob, a football player who takes a liking to her. But just as there romance is about to blossom, she finds herself confused by his actions.
As things reach a low point, Rachel meets a mysterious boy from her school, Benji, a loner who keeps apart from the other kids, and who takes her on a ride on his motorcycle. They have an unforgettable night together in an amusement park—until something goes horribly wrong, and Benji shocks her by saving her life.
Rachel knows that Benji is different from everyone else, and she knows that he is the love of her life. And as their romance deepens, she has to decide if she is willing to give up everything to find out his secret…