No Comments
The Midnight Society (The Midnight Chronicles Book 1) by Rhonda Sermon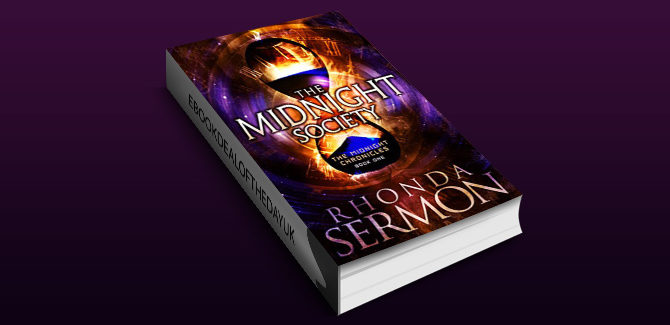 Realtime Price: £3.80

Witness protection has a protocol for dealing with every situation–except magic.
Cate's life has been monitored since her new identity was created five years ago. She's spent countless hours learning how to deal with potential threats and dangerous situations. None of which is any use when everyone around her is suddenly frozen like statues at the bus stop.
As she attempts to make sense of the frightening scene, a mysterious group of teenagers appears out of thin air. They are intrigued she's not affected, but focus on completing their deadly mission, using baffling powers before they vanish again.
When the group seeks her out the next day, Cate is drawn into a world filled with sorcery and time travel. After she accidentally brings a cheerleader back from the dead, her incredible powers are revealed. Cate is shocked to discover she has a pivotal role to play in a centuries-old battle between two mortal enemies which threatens to destroy her entire world.
With the distinction between good and evil blurred, she's faced with the excruciating choice of which side to join. Cate can save her family or protect thousands of people from death. She can't do both. Will she risk destroying innocent lives to save the ones she loves?
The Midnight Society is the first book in The Midnight Chronicles series of young adult urban fantasy novels. If you like original butt-kicking heroines, fast-paced fantasy and science fiction with unpredictable time travel twists, then you'll love Rhonda Sermon's refreshing, entertaining series starter.
(Midnight Society was originally released as Timesurfers. This book has been revised and contains additional content.)

Genre: SciFi & Fantasy, Timetravel


Amazon UK