No Comments
Free Three Romance Kindle Books this Monday!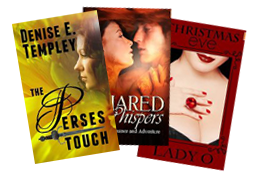 Free! "The Perses Touch" by Denise E. Templey
♠ A New Adult Cyber-Crime Mystery ♥ with a touch of Romance ♠
A secret project …
A missing blueprint …
An old acquaintance and a new one … friend or foe?
~
An unexpected email disturbs computer specialist Jayne Arnold. She races home, only to find the house completely deserted.
Ominous messages spring up everywhere Jayne looks. What does the project, which she has just completed, have in common with her uncle's 'quantum energy teleportation' research? Is computer espionage involved?
Jayne and best friend, Anne Berne, turn to old school friend, Evan Pugh, for help. The arrival of a new vet in the area does not help quell Jayne's sense of foreboding.
Free! "Christmas Eve (Eve trilogy)" by Lady O
A Christmas (bed time?) story that you won't have you falling asleep by the fireplace. Eve, a young plus size American living in Paris, falls under the spell of a fellow lawyer on her way to Miami. How hot can a tropical Christmas Eve get?
Due to explicit content this book is recommended for adult readers
Christmas Eve is the first part of a serial spicy contemporary novel.
New Year's Eve, the second part was published in December 2012.
Valentine's Eve, the third part, en February 2013.
Free! "Shared Wispers" by Sixteen published authors Anthology
Shared Whispers is a collection of short stories created by an eclectic group of sixteen award-winning writers from across the globe who create novels in such diverse genres as romance, suspense, mystery, thrillers, paranormal, fantasy, and science fiction. What's the common theme to the anthology you're about to read? Each story reflects the allure and importance of amore in our lives.
Why the title, Shared Whispers? Every writer has a unique voice in which they reflect the fictional world carried in their mind's eye. It can be the flow of their words or the rhythm or pulse to their scenes. The elegance of some voices pull you into the story, envelop you with their characters and offer momentary release from the drudgery and the complexity of modern life. In essence, these stories reveal the thoughts, the murmurs, the whispers shared with the Muse, our individual guide that holds our hand from the first to the last word. At the end of each creation, each author offers the Story Behind the Story, the seed from which the idea evolved. You'll also find a brief bio of their writing career and other titles that might be of interest.
AUTHORS AND THEIR STORIES:
~ Contemporary romance ~
Beyond Forever by M. W. Davis – Two ill-fated lovers from the past show a modern day couple the real meaning of love.
Special Delivery by Linda Rettstat – During a blizzard, a road sign promised sanctuary from the storm until a woman running from her past learns the doctor is a veterinarian.
The Setup by Victoria Roder – Blowing off a blind date might mean avoiding an unpleasant evening with a stranger–or being saved by one.
Life at Full Speed by Ute Carbone – Sparks fly when a prosecutor and a man she almost sent to prison meet under unusual circumstances–a speed dating event.
Frozen Section by Jane Toombs – An acknowledgement of a past loss does more than thaw a woman's heart. It opens the path to an unplanned future–and a family she never expected to have.
After the Tears by Angelica Hart and Zi – Grief darkened the future, until love took a hand.
~ Historical romance/western ~
Colours by Chris Fenge. Historical romance. In this tale, one woman seeks to escape the grey coloring her world and return to the bright colors of yesteryear and her true love.
Wailing Down the Wall by Julie Eberhart Painter – A Chinese legend comes to life amidst the creation of one of the world's greatest architectural marvels.
Journey Home by Linda LaRoque. Historical western. Life is hard and dangerous on the Texas plain for a couple separated by time, distance, and duty. Love brings them together–forever.
~ Fantasy/SciFi with a romantic core ~
Hatchling's Guardian by Helen Henderson – The last of his kind, Trelleir longs for companionship. Even if it is only that of a human. However, the one he has chosen to spend eternity has to overlook the fact he is a dragon.
Solitude by Ronald Hore – All Keith Sommerville wanted was a little time alone aboard his sailboat. What he found was a future beyond belief.
Cymru Am Byth (Wales Forever) by Jude Johnson – The freedom of Wales came at a price–love. Centuries later, fate intervened.
Heart of a Rebel by Dani Collins – Plans can be undermined when love and destiny take charge.
Heaven by Elizabeth Fountain – Angels are not always found in heaven.
Nimue's Daughter by Rita Bay – The past and the future collide when the Merlin of King Arthur's court seeks his true love in a world on the precipice.
Gods and Zombies by January Bain – Do humans dance at the whim of the gods or do we write our own destiny?
One of Us by Holly Hunt. Contemporary.