No Comments
Free Three Fiction Kindle Books this Tuesday!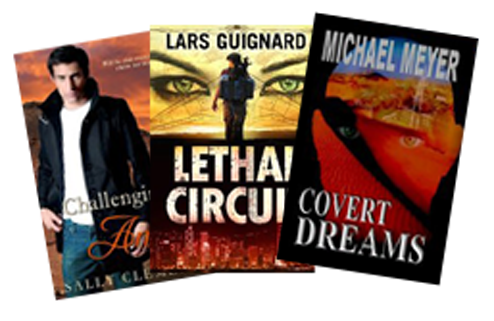 Free 'til 2/27! "Lethal Circuit: Explosive Spy Action for Mystery Thriller Fans" by Lars Guinard
A Chinese satellite is on a crash course with Earth.
It contains enough plutonium to irradiate a large city.
And that's the good news…
Michael Chase is a twenty-six year old backpacker, a recent college graduate, an amateur. He flew to Hong Kong to find his missing father. Four hours later, he's running for his life. The Chinese Secret Police want him dead. The Conspiracy wants him dead. And the one person who he thinks is on his side, may want him dead too. If Michael is going to live, he'll need to find a hidden piece of Nazi technology lost since World War II. And he'll have to do it before anyone else. Because if he doesn't, a little plutonium is going to be the least of his problems.
Can Michael Chase team up with a beautiful but deadly MI6 agent to locate a lethal piece of Nazi technology that will save the world?
Free 'til 3/01 "Challenging Andie" by Sally Clements
Jaded war correspondent Ryan Armstrong reports terrible events without letting them pierce the armor covering his heart. When his colleague Emily Harte is murdered, he feels responsible for her death, and travels to England to return Emily's effects to her daughter.
Bereaved, primary school teacher, Andie Harte has set herself a list of challenges to prove she can be as brave as her recently murdered mother, but when she's hounded by the press the need to escape means she must accept help from Ryan. During their time in seclusion, attraction blossoms into an affair. Their relationship was only supposed to be a fling. When the time comes for Ryan to return to Bekostan, can she risk loving a thrillseeker, or is that a challenge too far?
Ryan avoids love, knowing the pain losing it can bring. A life without Andie is sensible, but is it possible?
Free 'til 2/27! "Covert Dreams" by Michael Meyer
Imagine waking up remembering intimate details about a country in which you have never traveled and fluently speaking a language that you have never spoken. B.J. is living the ideal life. He has a great wife, a wonderful job. And yet he is experiencing life-like vivid dreams of Munich, a city he has never visited.
Stan Halsey is a professor in Saudi Arabia, who sends for his wife to join him. She arrives, and, in the blink of an eye, she vanishes, leaving no trace of ever being alive in either the United States or in Saudi Arabia.
COVERT DREAMS is a fast-paced international suspense thriller that moves from Munich to the burning sands of Saudi Arabia. What is real, and who is responsible for the terrifying nightmare?