No Comments
Atlantis Short Story Competition Anthology 2017 – 2018 by Raffael Pozorski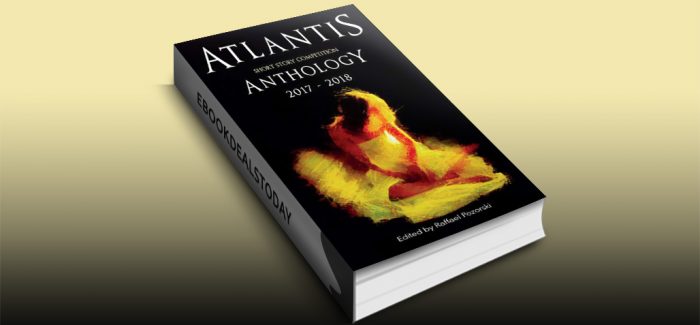 Realtime Price: £3.99
Evocative. Irreverent. Authentic. Voices.
ESSENTIAL SELECTION OF DIVERSE SHORT FICTION PERFECTED FOR 15-MINUTE READING SESSIONS
This anthology features 26 outstanding short stories by emerging writers,
carefully selected out of 258 competing entries from the International Atlantis Short Story Contest 2018.
Curl up with this remarkable collection and immerse into the best of contemporary English short fiction
representing a wide range of styles and subject matter. Exciting new worlds and dynamic characters await!
Since its inception in 2011, the contest steadily gained popularity and established a presence in the US, Australia, New Zealand, the UK, Ireland, Canada, and India.
The contest celebrates the tradition of showcasing and promoting the work by aspiring authors as well as enhancing their publishing acumen.
SPECIAL BONUS:
Short story titled "Death of a Warrior" by award-winning artist Paul Douglas Robertson
HIGHLIGHTS:
Dominique Potvin's "The Adventures of Aria the Orca: Aria in Australia" (with stunning illustrations by Amanda Cachart)
Rebecca-Alexandra Green's "Hans and Greta" (a twist on the traditional fairytale with fabulous illustrations by Adam Skelton)
List of resources (databases of small presses, literary agents, publishers, and magazines; accepting unsolicited submissions)
Little Wonder Radio Plays (10-20 minute full cast audio dramas)
INCLUDED:
26 selected awe-inspiring stories with the following titles
"You Are Wonderful" by Katharine Blachford
"Wrapped In Brown Paper" by Donna Smith
"THE LOOP" by Heledd Williams
"Lilies" by Alice Lam
"Weighing Up The Risks" by Pauline Mary Curley
"DON'T KNOW MUCH ABOUT HISTORY" by Heledd Williams
"Trade Winds" by Anan Singh
"Hans and Greta" by Rebecca-Alexandra Green
"Corpses" by Paul Whelan
"The Artist" by Hannah Joy
"Mystery Car" by Trevor McGregor
"LOVE TRIANGLE" by Bronwyn Clifton
"Through the Mahogany Door" by C J Bouniu
"The Deliberate Swan" by Ginger Rigdon
"Buri Khabar" by Anan Singh
"HAPPY HOUR" by Paul Douglas Robertson
"Eleanor's Lemurs" by Cosima Armstrong
"Invisible" by Julie Vanessa Baker
"The Black Wasp" by Stephan Ward
"Sign Of The Times" by Mara Blazic
"Reflections from SoCal" by Jin An Hirst
"Pikachu, Tiaras & ECT" by Laura O'Hare
"Spring Rain is a Different Entity" by Joyce Butler
"Wavy" by Preston Copeland
"Crocodile Creek" by Timothy Nicol
"The Adventures of Aria the Orca: Aria in Australia" by Dominique Potvin
Genre: Contemporary Fiction, Literary Fiction

Atlantis Short Story Competition Anthology 2017 – 2018 by Raffael Pozorski
Amazon UK