One Comment
A CHRISTMAS COLLECTION by Patrice Wilton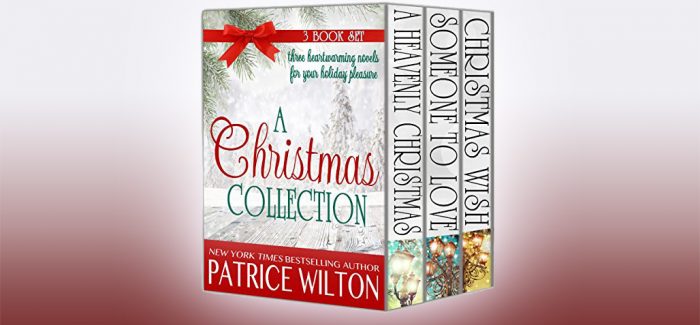 Realtime Price: £5.19
***NEW YORK TIMES BESTSELLING AUTHOR PATRICE WILTON***
Three full length Holiday stories are wrapped up for your enjoyment!
A HEAVENLY CHRISTMAS –Jennie Braxton and her two small children are traveling to Philadelphia for Christmas with her family. Car trouble lands them in a magical town called Heaven, PA. Everything about this sweet place seems too good to be true, especially Nick Ryan, a local chef with a heart as big as her own. His sensual smile tempts her from mourning the loss of her dear husband, to look into the future. Can her dreams of finding happiness again come true, or will her heart hide safely in the past?
SOMEONE TO LOVE –Allison Cornwall was forced to leave her hometown in Connecticut and live life on the run from an ex-boyfriend turned stalker. She changed her name and hunkered down in Heaven, PA. The small, idyllic town was— a safe haven where no one could find her. And yet, after a year and a half of peace, he did. Police Chief Ian Brown is determined to keep crime out of Heaven. When Ally fears for her life, he's there to protect. Recently divorced, he's not looking for love, but this innocent young woman touches his heart. Can they put their pasts behind them and open themselves to the miracle of Christmas—learning once again to trust and to love?
CHRISTMAS WISH–Single mom Meghan Shaunnessy and her four-year-old autistic son Liam move to Heaven, PA for a temporary post as a special education teacher. Her parents were killed in a tragic car accident, and she wanted to be close to her sister—her only remaining family. Playboy bartender at Nick's Bar & Bistro, Byron Watts hides a deep pain from the casual hookups in his life. Can this unlikely pair overcome their past and learn to love again?
Genre: Holiday Romance

A CHRISTMAS COLLECTION by Patrice Wilton
Amazon UK