No Comments
Unforgettable Protectors by Mimi Barbour + more!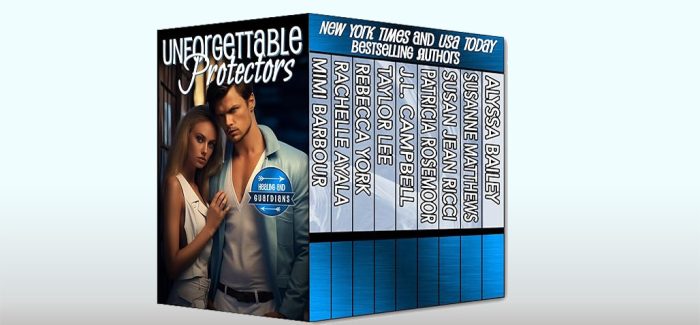 Realtime Price: £0.99
Is he who she thinks he is?
Is she trustworthy?
Nothing is as it seems when romance and suspense tangle.
Get ready for a scintillating collection of romantic suspense stories of different sub-genres for avid readers everywhere. From psychiatrists to psychics, liars, lawyers, Vampires, Wiccans and ghosts, human trafficking, drug rings, and haunted homes, this set is packed with adventure and trills of all heat levels. Enjoy a heart-throbbing, fist-clenching Romantic Suspense collection brimming with both new and classic works by International, New York Times. and USA Today Bestselling Authors from The Authors' Billboard.
Mimi Barbour – Special Agent Walker: What would you do if you saw a teenager get off the bus in front of school with a rifle barrel sticking out from his backpack? New York Times and USA Today Bestselling Author
Rachelle Ayala – Knowing Vera: Caught between a web of family secrets and a deranged adversary, Vera and Zach must depend on each other for survival. Love blossoms, but the truth explodes everything Vera knows about herself. Will she close her heart forever or risk it all for a shot at happily-ever-after. USA Today Bestselling Author
Rebecca York – Night Moves: Although Emma had set out to save her sister, she soon discovered that her own life was at risk–because she had run straight into the arms of a vampire. New York Times and USA Today Bestselling Author
Taylor Lee – Big Girls Don't Cry: Taking down an international drug ring? Solving a vicious murder? All in a day's work for the sexy special agent. Capturing an irresistible woman as tough as she is beautiful? Now that's another story! USA Today Bestselling Author
J. L. Campbell –- Phantasm: Mario is determined to win Josette, but fears that her dead husband will succeed in luring her to the other side if he doesn't stake his claim on her. International Bestselling Author
Patricia Rosemoor – Rescuing the Virgin: ICE agent Quinlan McKenna Farrell's failure to bring down a human trafficking ring in Texas haunts him until Luz Delgado, an American trying to save her brother, is taken off the streets and sold to Quin as a virgin.New York Times and USA Today Bestselling Author
Susan Jean Ricci – Critter Crew: A lady with a debatable past and a middle-aged cop prematurely retired due to his fear of firearms discover how a hornet attack, a runaway ostrich, and a miserable cases of poison ivy offer them another stab at happiness. USA Today Bestselling Author
Susanne Matthews – Atonement: With help from Dr. Walt Tanner, the man who broke her heart, a couple of unusual cats, and an ancient parrot, Anca sets out to discover the truth about Cole Cottage and find the key to saving the future. International Bestselling Author
Alyssa Bailey – Saving Oakley: Just as the psychiatrist and attorney's relationship develops into a commitment to spend their lives together, Oakley disappears. Frantic, Ryker turns to his best friend Jac and his operatives to help him find and save Oakley before it's too late. USA Today Bestselling Author
Genre: Romantic Suspense

Unforgettable Protectors: Healing and Guardians (The Unforgettables, Book 11) by Mimi Barbour + more!
Amazon UK