No Comments
The Sun God's Heir by Elliott Baker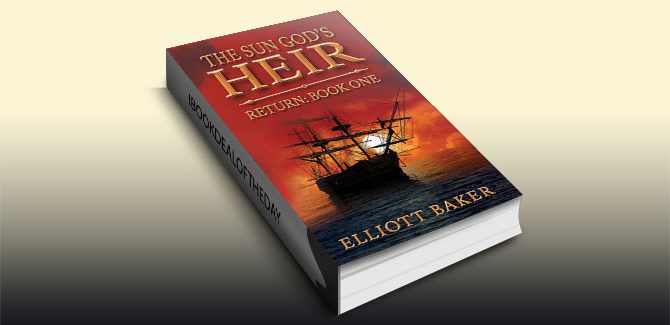 Realtime Price: £3.24
17th century high seas adventure sails the gauntlet of the Barbary coast in this seagoing thriller. Board Now
1671. Destiny is forced on René Gilbert when he awakens aboard the slave ship Albion. Tomorrow balances on the blade of a rapier.
A three-thousand-year-old hatred searches for René. Facing Dutch privateers, Barbary pirates, and the ocean's fury, René fights his way to an inevitable confrontation with an unknown enemy who, if unchecked, will recreate a world of slaves drenched in blood.
Alexandre Dumas meets Horatio Hornblower and The Mummy in this sweeping, swashbuckling tale. – Kirkus Reviews
The Sun God's Heir: Return, is an epic story, taking you into a time where actions and words ripple from the past into the present and then invade the future. A truly remarkable story. – Readers Favorite
In this epic fantasy, THE SUN GOD'S HEIR by Elliott Baker, readers are offered a unique and compelling story line. Baker's vivid descriptions and well-drawn characters seem to shimmer with life. — Judge, 25th Annual Writer's Digest Self-Published Book Awards.
Genre: Action & Adventure

The Sun God's Heir: Return (Book One) by Elliott Baker
Amazon UK
Watch the BookTrailer of "The Sun God's Heir: Return (Book One)" by Elliott Baker
==>> CLICK HERE