No Comments
Three Free Romance Kindle Books this Thursday!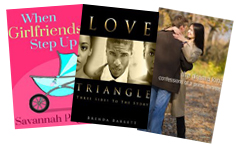 Free til 2/1 "When Girlfriends Step Up" by Savannah Page
A novel about love and support, and learning that with enduring friendships, no woman is ever alone.
Robin Sinclair is young, determined, and has a promising career at a small publishing house in Seattle. Even though she considers herself unlucky in love, Robin still dreams of eventually meeting Mr. Right and having a happily-ever-after kind of life. And at twenty-five, the world of opportunity is wide. But it's been a difficult year filled with trials…and it's only just begun.
While long-time friendships are finally on the mend, and things are starting to look up again, Robin is faced with her biggest challenge yet. She's single and pregnant.
Uncertain now of her future and scared of being alone, Robin must re-examine her life and choices, and summon the courage to step up.
With the love and support of her best girlfriends from college, especially her best friend and roommate, Lara, Robin will learn that when the going gets tough, the best of friends become family. And, perhaps, with their encouragement, Robin can mature and gain the confidence needed to become a single mother. And, who knows about being unlucky in love. Things are suddenly getting interesting with Robin's attractive co-worker, Bobby.
This is an endearing story about maturity and perseverance. It's a story about friends coming together as family, about finding the strength within and around, and about writing your own happily-ever-after. About what happens when girlfriends step up.
Free! "Love Triangle: Three Sides To The Story" by Brenda Barrett
There are always three sides to a story when there is a love triangle, the why's and the how's are best answered when the individuals involved tell the stories through their eyes and experiences.
George was a faithful church goer and bank manager. He had an affair with Karen, a young woman who worked at his bank and who knowingly got involved with him, even though he was married to Marie. A glimpse into the world of cheating, the story is told through the eyes of the wife, the mistress and the husband. Someone will get hurt, who will it be?
Free til 2/1 "The Drama King #3: Confessions of a Prime Minister " by Fahid Hussain
#3: The Drama King – Arthur joins Drama class in his Senior year in High School and is inspired by a brilliant actress and student body President, Valerie Suvari. Meanwhile, a Presidential campaign is about to begin that pits Valerie's best-friend Brenda Williams against Arthur Brown amidst scandals, secrets, teen pregnancy and involvement of the Captain of the basketball team.
A fictional autobiographical serial with a setting in the future. Le Très Honorable Arthur Brown makes his most daring confessions, discussing his early life, the women that moved him and his twenty-two year reign as Prime Minister of Canada.
Previously Released:
#1: Downfall – http://www.amazon.com/dp/B00B02VNTO
#2: Sex & Goths – http://www.amazon.com/dp/B00B2QYBTM
Facebook Page: http://www.facebook.com/pages/Confessions-of-a-Prime-Minister/113072632204295
Coming Soon:
#4: Me and Valerie
Each episode runs at 7-10k words (The Drama King is over 11k)