No Comments
Outback Dreams by Ann B Harrison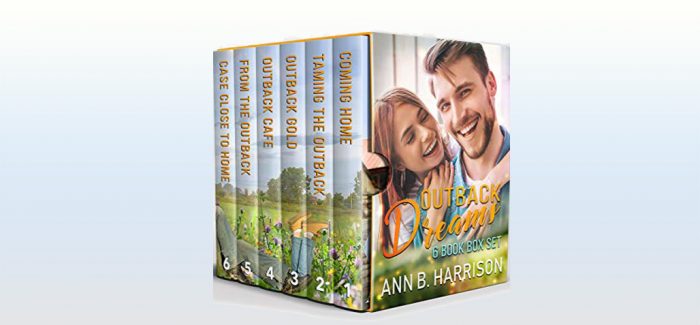 Realtime Price: £7.81
Six small town stories to make you fall in love again.
Coming home—but is the price too high for the Williams siblings?
Their father drove them away, now the conditions of his will are forcing them home and they may not like the rules he's set.
The city hasn't been kind to Doctor Russ Williams and he can't wait to leave his broken marriage behind him. Superstar rugby player Cade, his career threatened by a crippling injury, has to face the fact that his glory days might be over. Rooney, carrying a secret she won't be able to hide if she returns but lured by the promise of owning a vet practice. Three very different siblings with their own dreams, forced to face reality on the family property, confronted at every turn by their past. Will there be time for love?
Taming the Outback – Libby is set on taming the outback as she takes over Quincy Station, but can she tame her rough neighbor, Nathan's, hardened heart as well? Nathan Miller rattles Libby's nerves more than she cares to admit. He is the one person that stands between her and the family home that has been left to her. So why then does the man stir her up to such an extent, her body pulses with the need to have him? They do nothing but clash and snap at one another, and he makes no bones about the fact she shouldn't be Quincy's Station's new owner, but back in the city where he thinks she belongs. But when Mother Nature brings chaos to Quincy Station and threatens Libby's children, he'll either be proved right in his assumptions or find his barriers taken down by a stubborn woman and her kids.
Outback Gold – Stacey Peters is passionate about saving the old family pub and the unique outback from the voracious mining company. Morgan Taylor, owner of the mining company comes to town and is less than honest about his intentions…with the mine and with Stacey. Can they resolve their differences or will they be torn apart as the gold is mined?
Outback Cafe – Lena Hawkins has spent her every waking moment building her reputation as a top chef and when her money grubbing husband takes the credit and tosses her aside she calls it quits for the sake of her son and returns to the country town where she grew up thankful for the support of her close knit Italian family. Coerced by the local community she opens a restaurant in a disused dairy.
Adam Chapman, one time Sydney lawyer now deer farmer, is more than happy to provide the premises and have an outlet for his produce. Little does he realize that they have unsavory connections that have nothing to do with the restaurant business. Old secrets are uncovered that rock the small town and drag them both into the world they thought they'd left behind them.
From the Outback – Although desperate to get out of her dead end job, Sami is cynical when she hears of an inheritance from the grandfather she never knew. But once she and her young brother arrive in the beautiful valley, she discovers they are not wanted…especially by the sexy vineyard owner next door.
Will she persevere and make a home for them, or give in and take the easy money when the going gets tough?
Case Close to Home – When her husband is killed in a botched robbery, Ryder Quinn can't bear to stay in America because of the memories. She takes her daughter and moves back to the country of her birth, Australia. There she finds employment in the small country town of Mudgee and tries to fit in with the family she never had a chance to get to know when she was little.
Given her experience with the FBI, her boss decides she should go over old cold cases. After a couple of warnings, things go wrong which eventuate in the criminals getting too close for comfort.
Family connections, whispered insults and unexplained incidents make this case impossible for Ryder to quit.
Amongst all the chaos, her main focus is to find somewhere safe and happy to bring up Ebony.
Genre: Romance

Outback Dreams by Ann B Harrison
Amazon UK
B & N