No Comments
Three FREE Romance Books this Wednesday!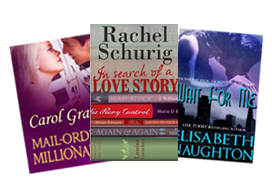 "In Search of a Love Story (Love Story Book One )" by Rachel Schurig
Emily Donovan doesn't have a romantic bone in her body.
At least, that's what her friends Ryan and Ashley keep telling her. They're convinced her bad luck with men is directly related to her life-long lack of interest in all things romantic. When Emily's latest relationship crashes and burns, she decides to go along with her friends' plans for a romance research project. Sure, the idea that she'll have better luck if she learns about the great romances of literature and film seems a little silly, but Emily figures it can't hurt.
In no time at all, Emily finds herself buried under a mountain of romance novels, chick flicks, and sappy love songs, hopeful that her hard work will pay off with true love. When she meets Greg, Ashley and Ryan are convinced she's found prince charming—after all, he's rich, handsome, and totally into Emily. What more could she want? And why does it seem that her friend Elliot isn't exactly happy for her?
Faced with misunderstandings, miscommunications, and a seemingly endless string of missteps, she is nevertheless determined to give true love a try. In doing so, Emily will eventually find that true romance, the kind that lasts, has little to do with stereotypes or clichés, and everything to do with finding out what's in her own heart.
"Mail-Order Millionaire" by Carol Grace
Miranda Morrison has handled her share of irate customers at the Vermont mail-order company, but Maxwell Randolph Carter with his southern accent and his tough-guy attitude topped them all. Was it her fault the wealthy weatherman was stuck at his remote mountain top station in three feet of snow without the boots he'd ordered? Still, the customer was always right…So off she went in the snow mobile to deliver those damned boots.
Max was shocked to see the lovely but half-frozen Miranda arrive at his outpost with the merchandise. It wasn't every day that a beautiful delivery woman drops by the observatory. He predicted fog which meant she had to stay overnight, but he never predicted that lightning would strike him when he saw her. Now if only he could keep her there long enough to prove they were made-to-order…
"Wait For Me" by Elisabeth Naughton
A woman without a past…
After a tragic accident left her with no memory, Kate Alexander struggled to fit in with a husband and world that didn't feel right. She's had no reason to question what friends and family have told her, not until her husband is suddenly killed and she finds a photo of a young girl in his office. A girl who can't be anyone but a daughter Kate didn't know she had.
A man desperate for a reason to live…
Ryan Harrison lost his wife in a plane crash five years ago. To cope with the pain of her loss, he dedicated himself to his job and to raising their daughter. Now a successful pharmaceutical executive, Ryan has everything a man could want—money, fame and power—but he'd give it all up in a heartbeat for just one more day with the woman he still loves.
Two lives about to converge.
As Kate begins to dig into a past she doesn't remember, evidence leads her to San Francisco and puts her on the path toward Ryan, a man who sees in her the woman he loved and lost. Kate feels a draw to Ryan, one she can't explain, but is that feeling enough to convince her this is where she's supposed to be? As Ryan and Kate search for answers, they uncover lies long buried, a passion hotter than either expected and a danger that threatens…even now…when the second chance they've both been searching for is finally within reach.