No Comments
Three Free Kindle Books this Friday!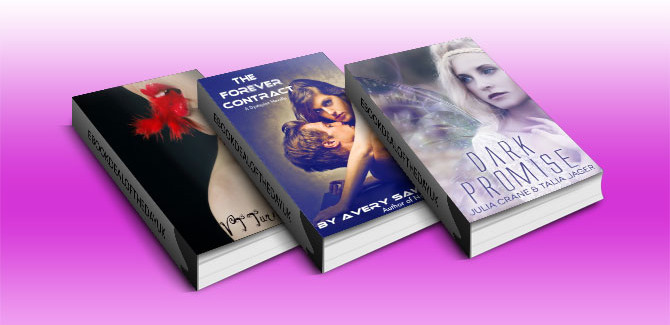 "Dark Promise (Between Worlds #1)" by Julia Crane and Talia Jager
Genre: Young Adult, Fantasy, Romance
Rylie has it all – great friends, dream boy, loving family. But on the eve of her sixteenth birthday, her perfect little world shatters. A stranger claiming to be her real mother appears with a secret: Rylie is a faery whose powers will be unleashed on her birthday. Captured and forced into a new life, Rylie struggles to keep everything she loves and discovers a terrifying truth: some promises cannot be broken.
60k words.
"The Forever Contract" by Avery Sawyer
Genre: Young Adult, Dystopian
In the very near future, the country is plunged into drought and unrest. Scarce resources and constant heat are making life completely miserable. Casey doesn't think she can stand slugging back another gel pack or working one more shift at the wells. Fortunately, there's a solution: anyone over the age of seventeen can sign the Forever Contract and enter a utopian paradise. While people's minds take a permanent vacation, their bodies get warehoused and hooked up to a complex array of sensors and feeding tubes. As Casey's brother says, "You upload your consciousness to the system and you're free to live as long as you want, however you want. No more pain, no more heat, no more awful dust, no more work. Just pure thought. It's what our species has always been meant for. Suffering is for philosophers. Not for me."
Casey's ready to sign–a permanent vacation is just what she needs. There's only one problem: her boyfriend James doesn't trust it.
"Good, Bad, Girl" by V T Turner
Genre: Erotic Romance
Lisa is the perfect girl. She's vibrant, wild and beautiful. She's his dream girl, an angel who enters his life, takes his virginity and wins his heart and mind.
But Lisa is also his brother's girlfriend and, according to him, she's trouble; something that he learns himself when he discovers that his angel, the love of his short life, has more than a few demons inside her.
Good, Bad, Girl is a romance story with a twist. A dark and intense tale of betrayal, love and lust.