No Comments
The Saxon Spears: The Song of Ash Book 1 by James Calbraith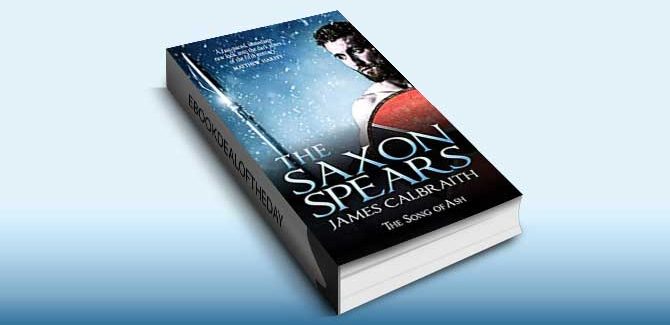 Realtime Price: £3.49
The old world is burning
A hero will rise from its ASH.
Thirty years passed since Britannia voted to throw off the Roman yoke. Now, the old world crumbles. Pirates roam the seas, bandits threaten the highways, and barbarian refugees from the East arrive on Britannia's shores, uninvited. The rich profit from the chaos, while the poor suffer. A new Dark Age is approaching – but all is not lost.
Ash is a Seaborn, a Saxon child found on the beach with nothing but a precious stone at his neck and a memory of a distant war from which his people have fled. Raised on the estate of a Briton nobleman, trained in warfare and ancient knowledge, he soon becomes embroiled in the machinations and intrigues at the court of Wortigern, the Dux of Londinium, a struggle that is about to determine the future of all Britannia.
A child of Saxon blood, an heir to Roman family, his is a destiny like no other: to join the two races and forge a new world from the ruins of the old.
◆◆◆
"In The Saxon Spears James Calbraith gives us a fast-paced, immediate, raw look into the dark times of the fifth century. (…) James Calbraith's Ash is a sympathetic protagonist, full of mystery and a yearning to discover the secrets of his past and the truth of his destiny. The Saxon Spears is a great read." – MATTHEW HARFFY, author of Bernicia Chronicles
★★★★★ "Rich, detailed writing and compelling characters." – Jessica Belmont, Jessica Belmont
★★★★★ "A truly intriguing and impressive start to a new series." – Liberty Ireland, Historical Graffiti
★★★★ "A fine beginning indeed to what promises to be an exciting series." – Paul Bennett, Hoover Book Reviews
◆◆◆
The Saxon Spears is the first volume of the Song of Ash, a fast-paced, gripping historical fiction saga, perfect for fans of Bernard Cornwell's "The Last Kingdom" series, Matthew Harffy and Conn Iggulden.
Genre: Historical Fiction

The Saxon Spears: The Song of Ash Book 1 – the epic saga of the Anglo-Saxon Dark Ages Britain (The Song of Britain) by James Calbraith
Amazon UK