No Comments
Special Agent Kandice by Mimi Barbour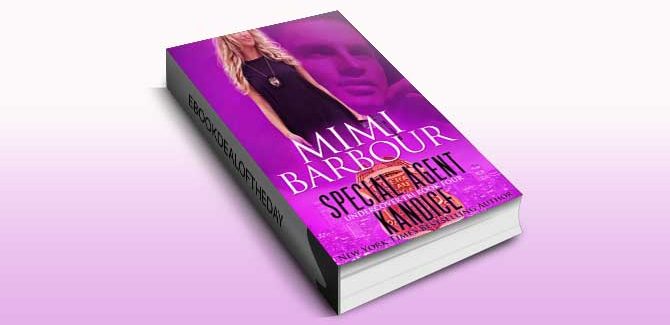 Realtime Price: £3.28
Powerful, thrilling and character-driven, this romantic suspense is a real page-turner.
Special Agent indeed, Kandice Warner is everyone's best friend. Talk about a Barbie doll! This female might have the same pretty-girl looks but even though she has a tender heart, she also has the resilience needed for a very successful FBI Hostage Negotiator. Feelings of inadequacy constantly force her to prove that she's tough, and she demonstrates her courage when dealing with a murderous bank robber, a desperate jumper, being stalked, kidnapped and beaten. But her tender heart can get her in trouble and she needs to grow a thicker skin. Almost impossible when her obstinate new boss, for reasons of his own, interferes in everything she does.
Assistant Director of the Criminal Investigative Division in Washington, Dan Black is as hard as they come. With the grit of a street youth stiffening his resolve, he's worked his way up through the ranks, his personal space shields as strong as ever. Until he sees the sweetest things on two legs! A girl from his past. The one he's never been able to forget. Working undercover in the Seattle bureau, he tries to protect his childhood fantasy but she refuses to stay put or take orders. Faced with a woman like that, what's a mere man to do?
The Undercover FBI Books:
Special Agent Francesca – Undercover FBI Series Book #1
This special agent flies her own plane, drives like a maniac & approaches a father who never knew she existed. Nothing scares her, except for one thing… MEN.
Special Agent Finnegan – Undercover FBI Series Book #2
Finn's a cop who adores his quirky dad. He knows this soft core leaves him vulnerable, so when he meets his new partner, Reneé, the thought of her in danger drives him crazy. Going under cover to find New York's suicide killers ensures constant conflicts, and through it all, a solid thread of love entwines all three of the main characters.
Special Agent Maximilian – Undercover FBI Book #3
Nik Baudin discovers an identical twin – one he never knew existed. Taking over his brother's identity, he becomes Special Agent Maximilian and gets embroiled in a case where high jacked young girls and trafficking of illegal drugs endangers his life and that of Max's gorgeous partner, Maya.
Special Agent Kandice – Undercover FBI Book 4
Kandice wants to be tough like the others on her team. And she wants to impress her new aloof boss, Dan Black. Being the chief hostage negotiator at a bank heist starts the process. Being stalked, kidnapped and beaten helps see it through. In the end, pulling the trigger comes easy…
Special Agent Booker – Undercover FBI Book #5
Sloan Booker has multiple quirky dads & a vehicle restoration shop that keeps him away from his job as an FBI agent. When terrorists threaten his neighborhood, he's back in the game. This time, with a partner – a gorgeous chick who looks like a super model, has a little boy she needs to protect and exhibits a disposition that's downright cranky.
Genre: Romantic Suspense

Special Agent Kandice (Undercover FBI, Book 4) by Mimi Barbour
Amazon UK