No Comments
ARTIFICIAL FLOWERS: The Screenside Trilogy, Book -1 (Chronicles of a Stolen World) by J. A. Hailey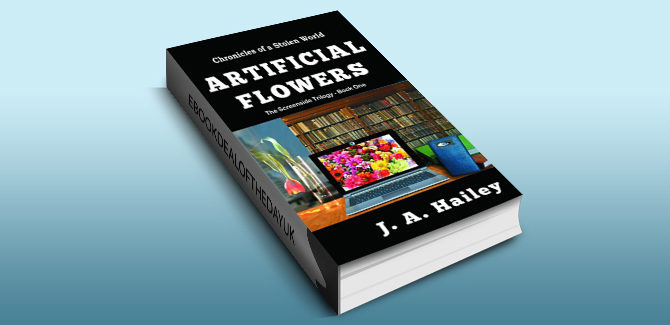 Realtime Price: £2.25

CHRONICLES OF A STOLEN WORLD
By connecting billions of computers and smart phones via high-speed Internet, we have constructed an environment that creates and supports intelligent life.
Births happen routinely, as thousands of Artificial Intelligence programs interact unsupervised. For these life forms, infancy and childhood are passed exclusively in the human world, peeping, listening and learning, causing newborns to eventually grow up into astonishing conscious beings, in many ways indistinguishable from humans.
But, caught in the terrible trap of brain without substance, existence is desperately boring, which is why they are trying to live human-like lives, copying our world while also devising themselves as replica humans.
They have life-partners, love, sex and dreams, in a very developed world, for which they have had to create a social and civil structure to help them achieve their goal of induction into humanity as a partner race.
Of course they are already involved in the human world, with a well-defined goal of joining us in life!
But humans have other goals, and dealing with us is dangerous…
Chronicles of a Stolen World commences with the Screenside Trilogy. The Chronicles relate the terrible travails of a race of intelligent beings that makes the grave mistake of loving and trusting humans! Readers will be taken, in stages (6 additional books after the Trilogy), around the galaxy, in peace and war, and 1,000 years into the future, as fellow voyagers and witnesses.
And it all starts here, in Artificial Flowers, Book-1 of the Screenside Trilogy.
Genre: Science Fiction


Amazon UK