No Comments
Beauty and a Baby: A Head-to-Toe Look at Post-Pregnancy Worries and How to Recover Your Pre-Baby Body by Rita Bertolli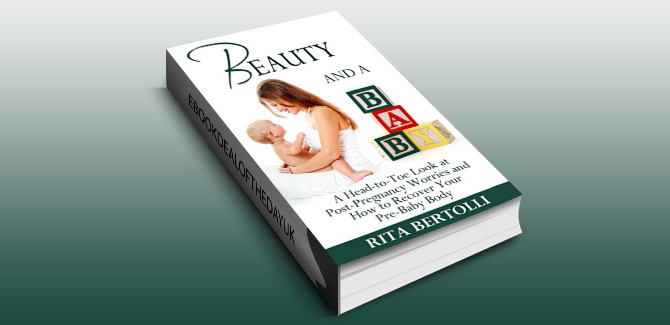 Realtime Price: £4.12

You can absolutely have the body you had prepregnancy. This book shows you how!
Beauty and a Baby is the ultimate post pregnancy education book, helping women discover how to get their body back after giving birth. Written by a mom who intimately understands the anxiety women feel around how pregnancy changes the body, Beauty and a Baby addresses all the worries, from small issues like posture and skin appearance, to bigger challenges like postpartum weight loss and stubborn belly fat.
"My main goal writing this book," says author Bertolli, "was to dispell the myth that pregnancy ruins your body. I wanted to give women a real guide to looking and feeling like their old selves. I want women to enjoy their pregnancies with the knowledge that life only gets better after children. Having children doesn't mean you have to sacrifice what you liked about yourself, or how you used to look and feel."
Carefully written and researched, Beauty and a Baby gives women answers to physically recovering from pregnancy, This book is not an inventory list like you find in so many online blogs, ideas for you to "try" that may or may not even work. Beauty and a Baby shares years of deep research on non-invasive, inexpensive and effective techniques personally vetted by the author to completely restore the body.
"I believe these are the most hard-core, successful approaches you can take without becoming too invasive with your body," says Bertolli. "If you're anything like me, there is a limit to what I'm willing to cut, slice, and move around. And let's not forget, we are busy moms! We don't have the time or in some cases the extra money to invest in ideas that may or may not work. We need inexpensive, simple and hopefully fast ways to get our bodies back."
This book removes the trial and error of trying to find what works best. There are no unrealistic plans in this book to change your lifestyle either. Each chapter focuses narrowly on a particular issue, from stretch marks and spider veins to cellulite and smaller breasts, and offers more than one way to address each problem with the understanding that not all women are alike.
If you are struggling with post pregnancy confidence or are currently pregnant and worried about your body after childbirth, Beauty and a Baby will give you the tools and the answers to recover your prepregnancy body.
Genre: Nonfiction, Parenting & Relationships


Amazon UK