No Comments
Myth, Magic, and Moonlight by Lily Baldwin, Elizabeth Rose, Aurrora St. James & Sibelle Stone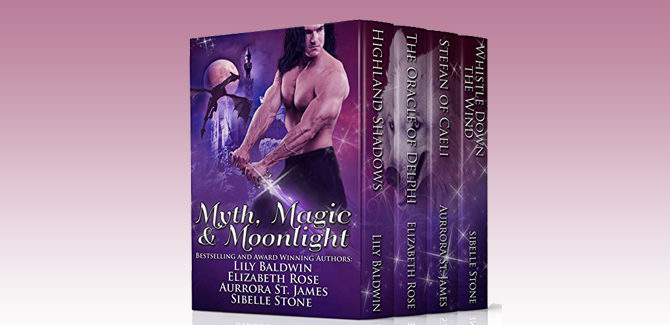 Realtime Price: ERR

Discover the magic in four, stand-alone paranormal romances…
Best-selling and award winning authors Lily Baldwin, Elizabeth Rose, Aurrora St. James, and Sibelle Stone invite you to step back in time with spell-binding tales of myth and magic, and the passion of four unstoppable heroes who risk everything for the women they love.
Included in this set are:
HIGHLAND SHADOWS by Lily Baldwin
In Alexander MacKenzie's youth, his clan prospered. Until one night fire and death descended, and all that was good and green fled the ensuing darkness, leaving the MacKenzie clan impoverished, and Alex's face severely scarred.
Known as the Mad Maid of Clan Ross, Cora has been imprisoned within her father's keep for a decade, but not against her will—she is her own warden. Cora locked herself away to protect those she loves from what she has become. Within the shadows that blanket their land lurk vampires and wolves. They know Cora's savage secret and have laid claim to her body. But the fight for her soul has only just begun, and only Alex's love can save her.
THE ORACLE OF DELPHI by Elizabeth Rose
Perseus, demi-god and son of Zeus is on a mission to save his mother's life. He needs to behead Medusa and bring it back to the evil king of Seriphus in a fortnight, or his mother will lose her life.
Princess Andromeda is on a mission of her own. Once thought to be the successor to The Oracle of Delphi, she bravely sits atop the throne over the pit of knowledge in trickery, to get an answer from the oracle herself. She is to be sacrificed to a sea serpent in order to save her village and the oracle tells her only the demi-god Perseus can slay the beast.
When Perseus seeks out the oracle in order to find the abode of Medusa, the feisty Princess Andromeda tries to trick him to go on a quest of her own. But Perseus has no time to lose in the mission of saving his mother. Shadows of doubt linger and it is certain someone will lose their life with one wrong choice, in The Oracle of Delphi.
STEFAN OF CAELI by Aurrora St. James
Dragon shifter Stefan Baudin's future depends solely on unraveling a mystery from the past. But the journey will lead him into dangers he never expected and to a woman who enthralls him as no other.
Isabela Florin is the only female in Caeli's guard. She's determined to recapture the respect she's lost—even if it means spying on the one man who awakens her desires.
When warrior and prince collide, who will gain the upper hand? Can love survive both secrets and betrayal?
WHISTLE DOWN THE WIND by Sibelle Stone
Escaping from the persecution of the European witch hunts, a beautiful witch with the power to control the wind joins forces with a handsome Cavalier on a mission to save the King of England and the colony of Virginia.

Genre: Fantasy, Medieval, Paranormal Romance


Amazon UK