3 Comments
Free! "Maid for the Billionaire (Book 1)" by Ruth Cardello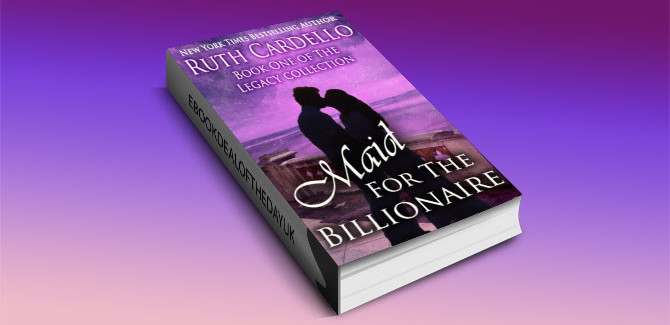 Ebook Deal of the Day:
Free! "Maid for the Billionaire (Book 1) (Legacy Collection)"
by Ruth Cardello
Genre: Contemporary Romance, Family Saga
Dominic Corisi knew instantly that Abigail Dartley was just the distraction he was looking for, especially since having her took a bit more persuading than he was used to. So when business forces him to fly to China, he decides to take her with him, but on his terms. No promises. No complications. Just sex.
Abby has always been the responsible one. She doesn't believe in taking risks; especially when it comes to men – until she meets Dominic. He's both infuriating and intoxicating, a heady combination. Their trip to China revives a long forgotten side of Abby, but also reveals a threat to bring down Dominic's company. With no time to explain her actions, Abby must either influence the outcome of his latest venture and save his company or accept her role as his mistress and leave his fate to chance. Does she love him enough to risk losing him for good?
Book 2: For love or Legacy
Nicole Corisi will lose her inheritance if she doesn't find a way around the terms of her father's will, but she will have to partner up with her estranged brother's rival to do it. As pretense becomes painfully real, Nicole will have to choose between Stephan or the family he is driven to destroy.
Stephan Andrade has been planning his revenge ever since Dominic Corisi unscrupulously took over his father's company. With Corisi Enterprises gambling its reputation on the success of a new software network for China, Stephan finally has his chance to take back his legacy. Dominic's younger sister, Nicole, asks Stephan for his help and provides him with an opportunity to exact his revenge on a personal level.
It all goes smoothly until he falls in love.