No Comments
A Perfect Storm by Mimi Barbour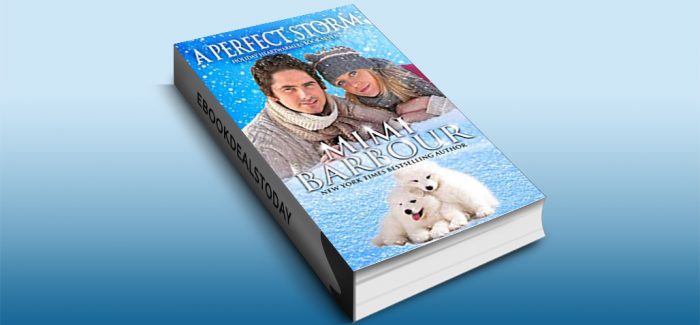 Realtime Price: £2.32
A crippled boy, an unhappy girl, a cuddly puppy and a Christmas romance!
A senseless accident happens that puts Jenni's ten-year-old son in a wheelchair while the rebellious girl who instigates the incident, shows anger rather than remorse. When it becomes imperative that the two be home-schooled, her bachelor father steps forward with his teaching degree and his appealing gray eyes, asking Jenna to let him teach both children.
Being a single mom who has to work, his request would certainly solve the problem of where her son could be educated until the New Year. But can she let her boy spend weeks with this dysfunctional family?
Chris finally gets custody of his daughter to find out that she hates the very sight of him. How can a man break through those barriers? Could the boy help – him and his new puppy… and the smart, beautiful woman he calls Mom?
Book #1 – Please Keep Me
A puppy, a brave little girl and a single mom who can't refuse her munchkin the chance to get to know her father creates a real heart-warmer.
Book #2 – Snow Pup
A small town's lovely deputy and a father, who lost his son years ago to a vindictive wife, team up to save the kid from a foster home he hates and an overzealous social worker.
Book #3 – Find Me a Home
In this heart-warming romance, an accident changes the lives of: a little girl who loses her parents, a crabby puppy who hates all men, a soft-hearted beauty who fears for her brother and also the cop who can't escape his destiny.
Book #4 – Frosty the Snowman
Stranded in an Alaskan snowstorm, Hali and Terry are forced to rely on each other for survival. Two strangers, a puppy and multiple conflicts they must overcome will keep you spellbound.
Book #5 – Love of my Life
Love of my Life is a story about abandoned puppies, a businessman who's developing a controversial mall in a city who won't fully support it and a woman who's bought her very first home only to find she's sharing the duplex with a hero whose heart is as mushy as a young girl's dream.
Genre: Contemporary Romance

A Perfect Storm (Holiday Heartwarmers Book 6) by Mimi Barbour
Amazon UK