No Comments
Sweet and Sassy Cinderella by Mimi Barbour + more!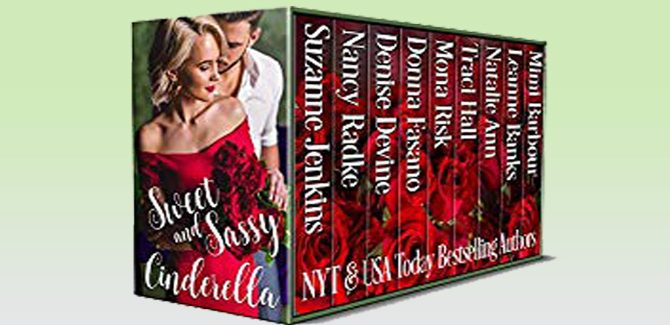 Realtime Price: £0.99
Cinderella, one of the most celebrated literary classics, has enchanted readers for hundreds of years. Now nine New York Times and USA Today Bestselling authors will keep you up past the stroke of midnight with their captivating contemporary stories as headstrong heroines and princely heroes dig through the cinders to find their own unique happily-ever-after.
All authors featured in this box set are New York Times and/or USA Today Bestsellers!
Law of April by Suzanne Jenkins – Even love won't sway April from her law school goal.
A Horse for Cinderella by Nancy Radke – She is not a thief! He has two horses, why does he think he also needs hers?
The Encore Bride by Denise Devine – Jenny Landon's heart was broken when her husband tragically died. Can she put the past behind her and learn to love again?
Jason by Donna Fasano – Runaway heiress Katie Smythe is a pampered debutante about to take on her greatest challenge—her first job… as a nanny.
Prince Philip's Cinderella by Mona Risk – The charming jogger who saves her from a dangerous situation is an honest-to-goodness prince who just might change her whole life—if she can resist her urge to run!
Karma by the Sea by Traci Hall – As Joe fishes Karma Aneko from the waves, he knows he's caught trouble.
First Love by Natalie Ann – Sparks fly when a woman from the wrong side of the tracks catches the eye of the heir apparent to the family empire.
His Majesty, MD by Leanne Banks – The prince and the heiress have been mismatched too many times. Can their fake engagement lead to the real thing?
She's Me by Mimi Barbour – Going back in time 40 years, a model takes over the body of a chubby librarian and the sparks fly!
Genre: Contemporary Romance

Sweet and Sassy Cinderella by Mimi Barbour, Suzanne Jenkins, Nancy Radke, Denise Devine, Donna Fasano, Mona Risk, Traci Hall, Natalie Ann, Leanne Banks
Amazon UK